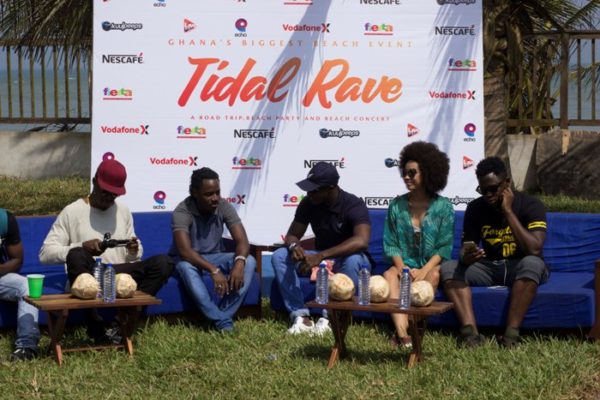 If the name Tidal Rave sounds new to you then you have been missing something interesting for the past 4 years? Well this annual event which is organized Echo House Ghana Limited had its fifth edition officially launched and this took place at the Echo Beach House which is located at Kokrobite In Accra.
On Saturday the 16th of July, the theme which is 'For The Rave In You' has loads of interesting activities which will make you regret if you miss it. The Tidal Rave Event which will take place on the 30th of July consists of a road trip, beach jam and beach concert. This is something which is worth every single cedi spent.
As countdown to the event is still ongoing, www.tidalrave.zone has been set up online so you can tell your friends via social media what sort of Raver you are by uploading images of yourself and let the world know.
MC Miguel began the press launch and unveiled surprise acts for the day. The Vodafone Ghana Music Awards Artiste of the year 2016 E.L, U x I hitmaker Joey B, AMB Business trending rapper Medikal, Ghana Jollof hitmaker Sister Deborah and the turn table expert DJ Vyrusky will be entertaining us to make it a memorable day.
Bright Ayaaba who is the head of Operations at EchoHouse spoke about previous editions and what Ravers are to expect for this year's edition.
"Tidal Rave is more than a getaway since it is an experience that people have come to plan their year around and continually get wowed every time they step into that sea front. It has come to be a part of the youth calendar of Ghana and we are challenged to step it up each year. The line-up of activities range from paintball to human foosball, drone racing, soccer to a host of others that will just blow your mind."
This year's Tidal Rave is sponsored by Vodafone X, Guinnes Ghana Limited, DKT International (Fiesta Condoms) and Nescafe. Don't miss the 5th event on the 30th July as it will be a wild beach party.