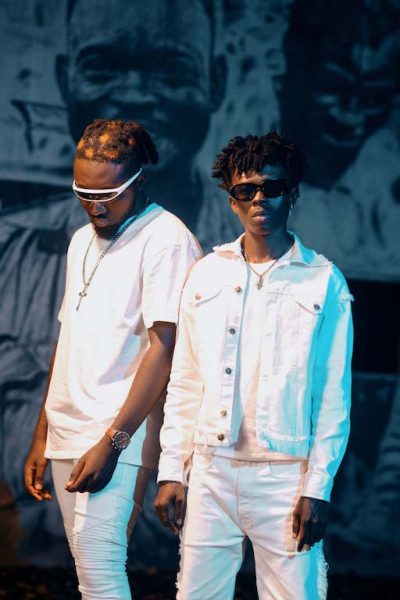 Hip-hop enthusiasts and fans of rap music have something to rejoice about as two powerhouses of the Ghanaian rap scene, Amerado and Strongman, have come together for an extraordinary collaboration. The dynamic duo has combined their lyrical prowess and undeniable talent on the track titled "Rap Is Still Alive", produced by the renowned Atown TSB. This exhilarating new release aims to reaffirm the significance of rap in the ever-evolving music landscape.
"Rap Is Still Alive" showcases the unparalleled chemistry between Amerado and Strongman as they effortlessly trade verses filled with exceptional wordplay, thought-provoking metaphors, and captivating storytelling. The powerful production by Atown TSB serves as the perfect backdrop for their hard-hitting lyrics, creating a compelling sonic experience that will resonate with rap enthusiasts worldwide.
Both Amerado and Strongman have built strong reputations as skilled wordsmiths and have amassed loyal followings throughout their careers. Their commitment to preserving and promoting the art of rap is evident in their contributions to the Ghanaian music industry. By collaborating on "Rap Is Still Alive," they aim to inspire and rejuvenate the rap community while showcasing their individual strengths and unique styles.
Amerado, known for his exceptional freestyling ability and insightful lyricism, has consistently delivered hits that have garnered widespread acclaim. His versatility and ability to effortlessly switch flows have made him a force to be reckoned with in the rap game.
Strongman, on the other hand, has solidified his position as one of Ghana's finest wordsmiths. With his impeccable delivery and powerful storytelling, he has consistently impressed listeners and industry peers alike. His ability to seamlessly blend humor, personal experiences, and social commentary into his music has set him apart as an artist.
Together, Amerado and Strongman embark on a mission to prove that rap is an art form that continues to thrive, despite the ever-changing musical landscape. "Rap Is Still Alive" is a testament to their unwavering dedication to the craft and their relentless pursuit of excellence.
This collaboration is made even more impressive with the inclusion of Atown TSB, an accomplished producer known for his ability to create captivating beats that resonate with listeners. His masterful production on "Rap Is Still Alive" perfectly complements Amerado and Strongman's performances, elevating the overall sonic experience to new heights.
"Rap Is Still Alive" is set to captivate rap enthusiasts and music lovers around the world with its infectious energy and undeniable talent.
The track is available on all major streaming platforms via https://easternchild.fanlink.to/Rap-Is-Still-Alive