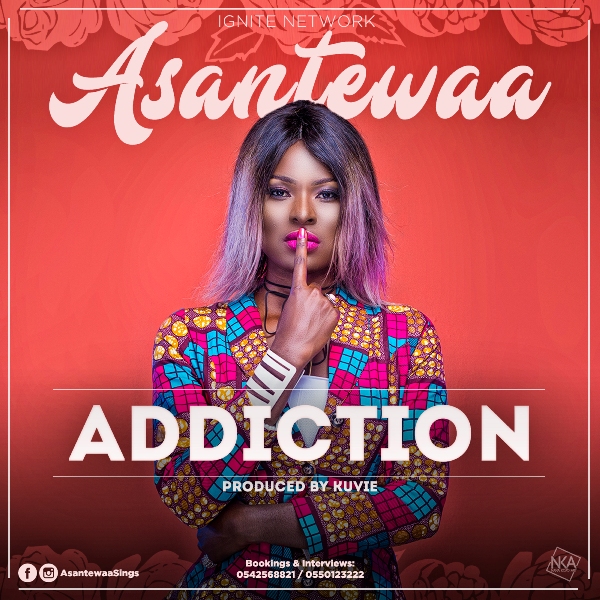 Ghanaian Producer Kuvie, may not be a household name to many people but this record he has produced for Asantewaa is tipped to be the major break out song that'd properly introduce launch his face unto mainstream recognition.
Asantewaa, the newly signed singer to Ignite Network is also a big surprise to hit Ghana. Her soothing voice and confidence on the song "Addiction" – the song title in itself will get you so addicted you can't resist putting it on replay. The lyrics well-put together flawlessly matches to production quality. The synergy between Asantewaa and Kuvie is so apropos!
Asantewaa is a Ghanaian secular singer. She is a seasoned live band musician who is quite familiar with her act. She has performed at very reputable places like M-Plaza, Piano Bar, +233 Jazz Bar & Grill, just to name a few.
BIOGRAPHY
Born Asantewaa Darlyn on January 20, 1992, she hails from Atonsu, an area in Kumasi, Ashanti Region of Ghana; a home that fosters musical works. Her mother was a singer who performed at lots of events. Her father also loves reggae music and had played for a reggae band years ago.
Off the media eyes, Asantewaa worked on herself to master her craft; she took to diligently playing and practicing on the recorder, eventually studying guitar, getting her voice coached. Music is something she has passion for since childhood. She usually performed in the church some time back and also at various events. The love and passion for music convinced her to officially launch herself unto the scene in her twenties till now.
She has previously released songs like 'Chinin Chiga', 'Konko', 'Pechem', 'Mebo Mehu Tuo'.
Asantewaa – Me Me (Prod. by Kuvie) [DOWNLOAD]
Facebook: Asantewaa Sings
Instagram & Twitter: @AsantewaaSings