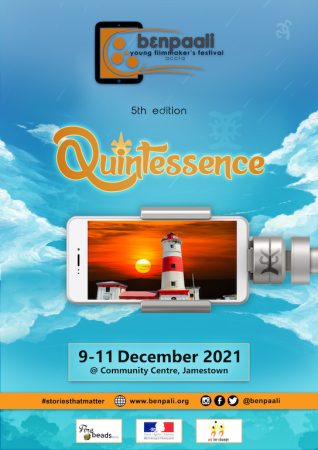 Bɛnpaali, a project by FireBeads Media, was founded in 2015 with the hope of being an amazing platform for young artists. Six years and four festivals later, Ghana is now home to several film festivals, but none specifically targets trained and self-taught young filmmakers. In fact, Bɛnpaali is the only film festival in Ghana that has this focus and also offers interactive workshops led by some of the country's most creative people working in the industry.
This year Bɛnpaali is hosting its 5th festival and using this milestone as a retrospective to reconnect with filmmakers, participants, and volunteers from past festivals. For BꜪNPAALI 2021, training will take place before the festival for a select group of young filmmakers who will use mobile phones and focus their artmaking on the Jamestown community.
Jamestown sits at the intersection of its colonial (Ussher Fort) and post-colonial history (a center of world-class boxing). Between being a fishing community and one that has been displaced by a new harbor project, Jamestown is still home to several internationally recognized festivals making Jamestown and the people who live there continually adapt to change. 
FOLLOW US ON INSTAGRAM FOR MORE UPDATES : @GHANANDWOM_
Following the successful completion of Liberating Stories of Women, a hands-on mobile phone film training for young women in Jamestown, Chorkor, and Nima that helped them produce docuseries about issues of domestic violence and sexual exploitation in their communities, FireBeads Media decided to focus BꜪNPAALI 2021 on Jamestown. We strongly believe there are many sides to the several stories of Jamestown and BꜪNPAALI 2021 will be the platform for this select group of young filmmakers to challenge themselves. 
Rather than having a theme to guide filmmakers in their submission, we are focusing this year's festival on the concept of Quintessence. Quintessence relates to this being our fifth festival ("quint") and to what is essential (the purest, most concentrated form of something). The select group of young filmmakers will therefore be trained and challenged to tell stories that:
Consider the most typical or representative ideas about Jamestown 
Capture the different cultures permeating Jamestown – past or present
Imagine Jamestown in the future.
To support or submit a film for exhibition, please send a mail to [email protected] or call/WhatsApp the Festival Coordinator (Mawuli) on 054-980-2096/059-323-8582.