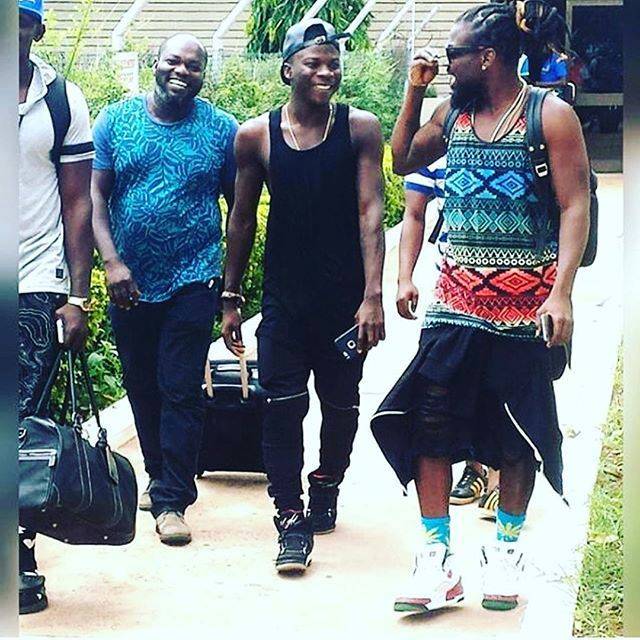 Organizers of the an nual Bass Awards have announced nominees for various honours at the widely-anticipated event which comes off this month. Popular reggae/ dancehall acts Samini, Stonebwoy, Rocky Dawuni, Ras Kuuku, and Knit Lante are all in the running for the most coveted prize; The Kwame Nkrumah Award.
Check Out : Ko-Jo Cue – My BayBey (Feat. Mr Eazi) (Prod. by Peewezel)
Other acts as Fancy Gadam, Ebony, MzVee, AK Songstess, and Epixode also secured nomination in various other categories.
This year's selection committee consists  Empress Lomo of Radio Gold, King Lagazee of Hitz FM, Fiifi Selah of Pluzz FM and Nana Dubwise a producer at Pluzz FM and deejay. For this year, special efforts were made to expand he base of the scheme in order to meet rapid dynamism in the industry. According to the source, deejays, industry players and musicians have been engaged to enhance the process.
Instituted in 2013, the Bass Awards seeks to reward deserving musicians in the genres of reggae and dancehall. Samini, Shatta Wale, Stonebwoy, Ras Kuuku, Tsidi Fari, Dr Knii Lante and A.K Songstress have all won Bass Awards in the past.
See a full list of nominees below:
KWAME NKRUMAH AWARD (ARTISTE OF THE YEAR)
KNII LANTE
SAMINI
STONEBWOY
ROCKY DAWUNI
RAS KUUKU
DANCEHALL SONG OF THE YEAR
SHEGAH – DEM AH RUN
STONEBWOY – GO HIGHER
BLAK MEXXIAH – UNDER COVER LOVER
EPIXODE – WE NUH CARE
RUDEBWOY RANKING – BUSS AH LIGHTER
JUPITAR Ft STONEBWOY – FIRE
FANCY GADAM FT RASHID METAL – NAAYI KOOMI
SAMINI FT BUSY SIGNAL – DROP THE GUNS
DISCOVERY OF THE YEAR
BOB SHABANI
FANCY GADAM
KAMELYEON
BASTERO
BURNING MEZAYA
EBONY
SCATA BADA
FEMALE VOCALIST OF THE YEAR
AK SONGSTRESS – CAN YOU FEEL IT
MZVEE – HOLD ME NOW
TIFFANY – FORGIVE
SHEGAH – SURVIVOR
MALE VOCALIST OF THE YEAR
KAMELYEON – JAH ALONE
DE VOICE – IT'S SO CRAZY
TSIDI FARI – FREE PAPAU
KNII LANTE – BEAUTIFUL VIRGO
LUTHER – AM GREATER
JUPITAR Ft STONEBWOY – FIRE
PRODUCER OF THE YEAR
AB MUSIC – SO CRY
BRAINY BEATS – DROP THE GUN
GARZY – NEW STYLE
BEATS DAKAY – GO HIGHER
RIDDIM BOSS – LAVA QUEEN
BEST DANCEHALL VIDEO
A.K SONGSTRESS – HOLIDAY
RAS KUUKU Ft TINNY – GBANGBAN
EBONY – DANCEFLOOR
STONEBWOY – GO HIGHER
FANCY GADAM FT RASHID METAL – YAAYI KOOMI
TIFFANY – FORGIVE THEM
MZVEE – HOLD ME NOW
BEST REGGAE VIDEO
OGYA MENSAH – IT'S SO CRAZY
LUTHER – AM GREATER
SHEGAH – SURVIVOR
RUDEBWOY RANKING – DON'T CRY
NANA BROBBEY – GMO
BEST PERFORMER
STONEBWOY
SAMINI
KNII LANTE
RAS KUUKU
FANCY GADAM
REGGAE ARTISTE OF THE YEAR
RAS KUUKU
IWAN
KNII LANTE
ROCKY DAWUNI
OSAGYEFO
DANCEHALL ARTISTE OF THE YEAR
STONEBWOY
A.K SONGSTRESS
JUPITAR
RUDEBWOY RANKING
FANCY GADAM
SHEGAH
BEST INTERNATIONAL ACT
PATORANKING
CYNTHIA MORGAN
NC DREAD
ALPHA BLONDY
ALBULM OF THE YEAR
ROCKY DAWUNI – BRANCHES OF SOME TREES
STONEBWOY – NECESSARY EVIL
SAMINI – BREAKING NEWS
MZ VEE – VERIFIED
ALTERNATIVE REGGAE / DANCEHALL SONG
DE SERVANT – OH GOD I LOVE YOU
ANNETTE DANSO Ft BUJU STINGO
MINISTER KOBY – SEARCHING
SANDY BEE – MASE BI
NII SOUL FT LARRY KINGDOM – WHERE'S THE LOVE
BEST REGGAE COLLABORATION
ROCKY DAWUNI Ft SAMINI – BLACK STAR
REDFYAH Ft JAH AMBER – SATURNALIA
BLEND MISHKIN Ft REDFYAH – NEED YOU
NANA BROBBEY Ft BLACK SANTINO – AFRICAN LIFE
BEST DANCEHALL COLLABORATION
JUPITAR FT STONEBWOY – FIRE
BRAINER FT LINGUA – YOU DO EVERYTHING
EPIXODE FT SAMINI – LETS PARTY
IWAN FT K.PATAN / RASKUUKU – TAKING OVER
SAMINI FT BUSY SIGNAL – DROP THE GUNS
STONEBWOY FT R2BEES – SHIKENA
BURNING MEZAYA FT. RUDEBWOY – YUH SUMTHING
RIDDIM OF THE YEAR
RIDDIM BOSS – LAVA QUEEN
AK SONGSTRESS – SHUT DOWN
BRAINY BEATS – AVO RIDDIM
MASTA GARZY – IPHONE RIDDIM
SONG WRITER OF THE YEAR
OGYA MENSAH – IT'S SO CRAZY
IWAN – HOPE
PATTAN – EYE ODO
SHATTA RAKO – STATE OF EMERGENCY
SHEGAH – SURVIVOR
NANA BROBBEY – YEMPE NTOKWA
YAA ASANTEWAA AWARD (RECORD OF THE YEAR)
IWAN – HOPE
PATTAN – EYE ODO
SHATTA RAKO – STATE OF EMERGENCY
NANA BROBBEY – GMO
OSAGYEFO – BOHO BIOM
REGGAE SONG OF THE YEAR
BLAKK RASTA – SEIWA AKOTO
RAS KUUKU – MAMA AFRIKA
SHEGAH – SURVIVOR
AK SONGSTRESS – CAN YOU FEEL IT
RUDEBWOY RANKING – DON'T CRY
KNII LANTE – BEAUTIFUL VIRGO
STONEBWOY – PUSH NO FURTHER
ROCKY DAWUNI – NAIROBI
RED FYAH FT JAH AMBER – SATURNALIA
PAPA WASTIK – THIS FEELING