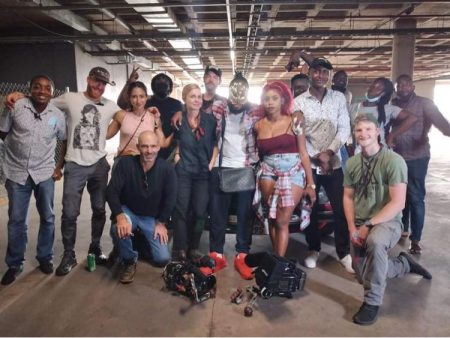 Young Ghanaian Hip-Hop artist known as Boss Bouncy has landed an international synchronization deal with his song "Ghana Scammer" off his debut EP titled "The Ghana Drill" Produced by Mr Aborga. The song was released in late 2020 under Aborga Records and has a total stream of approximately 25,000 across all streaming platforms.
The song has enjoyed a few air plays in Ghana and some parts of the United States of America. The music video was premiered on Bryte TV (Ghana) as well. The song basically addresses online scams in Ghana and talks about a young woman who is all about that lifestyle.
Fast forward to 2021, the song made its way into the award-winning docu-series titled "Trafficked" and hosted by Multiple award-winning journalist Mariana Van Zeller. The show is exclusive to the National Geographic Channel and aired on selected platforms like Hulu and some TV networks across the united states.
The episode is titled "Scammers" and had "Ghana Scammer" playing throughout the background. The National Geographic crew visited Ghana to film the episode and filmed part of Boss Bouncy's music video to be featured in the episode. You can watch his episode if you have access to Hulu or National Geographic TV.
This simply means young artists are beginning to understand and embrace sync licensing and know they have a wide range of opportunities if they bring up original songs. In a short phone interview Boss Bouncy, he confessed this is the first time seeing progress with his music and he is proud his song made it that far with the help of his team from Aborga Records.
He also said he has a new EP ready for release in 2022 and promised it's a new wave of Drill music people will love so much! We wait for what Boss Bouncy has under his sleeves for us. Check out the song below and watch the video too.
STREAMING LINK: https://ditto.fm/ghana-scammer
VIDEO: