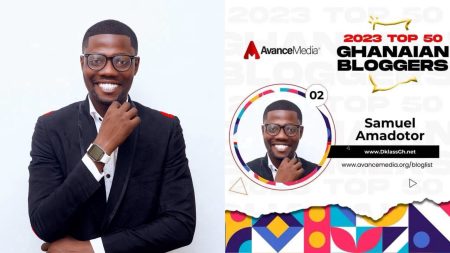 D.Klass GH known in real life as Samuel Amadotor, the founder of Ghana's popular Entertainment and News Blog, Dklassgh.net is the number 2 Blogger of the Year 2023 announced by Avance Media.
On the 17th October 2023 Accra Avance Media, a PR and Consulting Firm announced the 50 Top Ghanaian Bloggers of the Year 2023.
D.Klass GH, widely acknowledged for his insightful and engaging content, has carved a distinct niche in the blogging sphere, captivating audiences with his profound insights, thought-provoking narratives, and in-depth coverage of various facets of Ghanaian society. With an unwavering commitment to journalistic integrity and a keen understanding of the digital pulse, D.Klass GH has amassed a devoted following, solidifying his position as a leading authority in the realm of Ghanaian blogging.
The event was to recognize and award Ghanaian bloggers who have worked hard over the year and helped shape the online conversation through activities on their blogs.
Expressing his gratitude, D.Klass GH humbly acknowledged the support of his loyal followers and the unwavering dedication of his team, whose collective efforts have been instrumental in elevating his blog to new heights. With a renewed sense of purpose and a strengthened resolve to continue delivering enriching and informative content, D.Klass GH remains poised to further solidify his mark in the digital realm, inspiring a new generation of content creators and bloggers to pursue excellence and authenticity in their craft.
He has over the years shown much appreciation to Jonathan Nii Laryea popularly known as Jonilar – a music blogger and Digital Music expect and Papagah Bless of Celebritiesbuzz.com.gh as people who guided him into the blogging space.
Gaining his feet in Ghana's showbiz Industry, he has used his platform – website and all social media pages to promote music talents in the Volta region and other parts of the country.
The current win comes in addition to the several awards he has gained over the 8 years of his existence, it also comes as no surprise to many in the country as he has developed for himself a solidified brand with the main mission of serving his readers and viewers with great and educative contents.
Ameyaw Debrah, a trailblazer in the world of blogging, has seized the top position in this year's ranking. A luminary in the blogging sphere, Ameyaw Debrah's name is synonymous with insightful content and engaging storytelling. His rise to the pinnacle of this prestigious list reflects the profound impact he has had on the digital landscape.
Joining Ameyaw Debrah in the coveted top 5 are an illustrious group of bloggers who have left an indelible mark on the digital frontier: Samuel Amadotor, Clement Asamoah Yeboah, Papaga Seckloawu Bless & Frank Bonor Mawutor and Rashad Emmanuel
With the honor of being named the Number 2 Blogger of the Year at the Top 50 Ghanaian Bloggers 2023, D.Klass GH embarks on a new chapter, fortified by this remarkable recognition and poised to continue making significant strides in shaping the digital narrative of Ghana.
The ranking by Avance media on the Top 50 Bloggers is based on annual website traffic and social media influence.