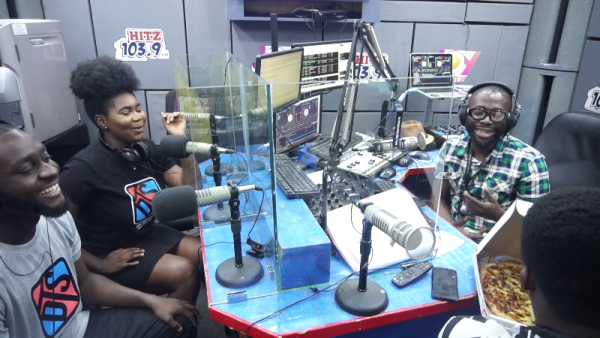 The Production team and cast members of DenTinzSome Talk Show partnered with Papas Pizza, also a sponsor on the DenTinzSome Talk Show, to surprise Ghone TV Crew, Okay FM, Hitz Fm, TV3 Network, Peace Fm and UTV with some boxes of Pizza. The whole motive of the surprise was the fact that it was a festive season and it's all about Love, Happiness and Giving. Which the Team showed a lot of love and put a lot of smiles on a lot of faces through the kind gesture they made.
Serwah Amihere of Ghone TV was excited and showed appreciation to the DenTinzSome team for the kind gesture. Andy Dosty also was really appreciative of the surprise and also went ahead to congratulate the DenTinzSome Team for doing amazingly well in the content space in the industry, he then went on to invite them for an interview on Hitz Fm which will be scheduled. Abeiku Santana also had a lot of questions for Visual Display Network, the production Company producing DenTinzSome Talk Show, knowing how much over a short period, they have contributed a lot to the industry. Johnnie Hughes and Mz Gee of TV3 Network were delighted about the Papas Pizza surprise.
Check Out : Black Sherif – Cry For Me (Prod by Unda Beat)
Arnold Baidu being a Panelist on kwasi Aboagye's Peace Fm show had a few things to say about the Company (Visual Display Network VDN) producing DenTinzSome Talk show. In his words, "I'm a fan of VDN, because what they're doing is something that goes on in other parts on the world especially in the United States and the United Kingdom. So, when I saw that they were doing something like that I was really excited. The topics they touch on and how they deliver their answers, especially the Twins and the one with the beard and the Ladies too. For me I think its very interesting and a very good content and I will applaud Cassandra and the entire VDN team. Also there's another review program where any of the twins host as well as the gentleman Rems, that also is very Innovative. So, I applaud all the team and keep up the good work. I hope 2021 you will do more and also touch on all related subjects, religion, entertainment, social and even politics, in as much as we're very polarized in our political dispensation sometimes go there and bring out the fun part of politics and discuss it. Big ups to VDN and God Bless".
Ultimately the DenTinzSome Crew were Overwhelmed about the fact that the Highly Respected Fadda Dickson the Managing Director of Despite Media Group showed his Utmost gratitude to the team for surprising UTV and also him on the 1st of January 2021, since his birthday fell on the same day.
Watch all Christmas Surprise Videos – https://www.youtube.com/channel/UC1dNflNpX6oGjXM-EMJd5ig
Watch New Episode Of DenTinzSome Talk show – https://youtu.be/XFBBns1ojWM
Instagram – @dentinzsometalkshow
Facebook – Dentinzsome talk show
Twitter – @dtstalkshow
TikTok- @Dentinzsometalkshow