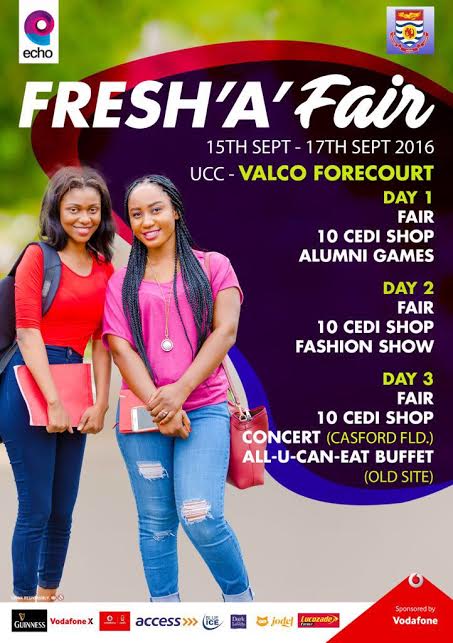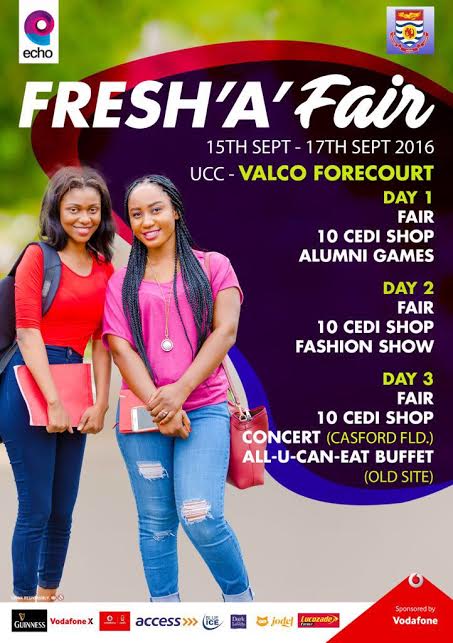 For the second year running, EchoHouse has rolled out 'Freshafair' an event set to welcome freshmen to the tertiary system. The event which is taking place in the 3 main universities promises to be a one-stop shop which makes it ideal for all students both freshmen and continuing. With brands, Vodafone, VodafoneX, Access bank, BBNZLive, Jodel, Lucozade, Guinness, L'Oréal  among others on board to give students mainly freshmen that ultimate campus life experience for the very first time, the bus makes the first stop in Cape Coast.
Check Out : Yaa Pono – Money On Mind (Feat. Shuga Kwame) (Official Video)
The university of Cape Coast will play host for the Freshafair train this weekend and comes with more than enough for every student. From the 15th to 17th September, the University of Cape Coast will have a series of activities from old inter-school games to movie night, discount fair to a finale concert.
The first day will have Old School games where students get to play for a GHC 1,000 from Lucozade. And there is the 10 Cedis shop experience where students get to buy everything on offer for just GHC 10 with Vodafone Cash.
The experience on campus will however not be complete without a direction or sense of fashion show. Hence, fashion will play a center stage on the second day. Designers, established and students, will get the opportunity to showcase their various designs.
And then on the final day, VGMA's Artiste of the year, the BAR, EL will turn up the heat in Cape Coast with the first of its kind, BAR ON CAMPUS. The show will feature the best of campus students as well as the entire BBNZLive crew and a host of other artistes. BAR III will be on display and the main feature on the night.
But the fun doesn't end in Cape Coast, the train will move to KNUST the following week 22nd– 24th September 2016 and University of Ghana the next for the grand fair on the 30th September -1st October.