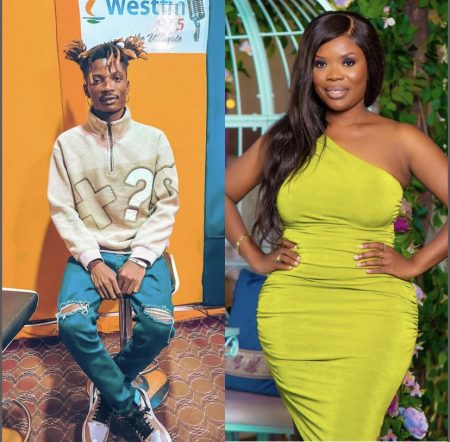 Celebrated Ghanaian Entertainment Journalist and Entrepreneur, Deloris Frimpong Manso, popularly known in Showbiz circles as "Delay", is the latest to openly declare support for Chief One.
"Turn By Turn", the latest and fast trending song by Chief One released few days ago is Delay's favourite, according to her.
Listen to "Turn By Turn" here on Digital Stores: https://ditto.fm/turn-by-turn-chief-one
In an Instagram comment she posted about the song via a video snippet posted by Chief One on his page, she's fallen in love with the song. Below is the snippet under which she commented.
Chief One, born Michael Ivan Nyagamagu is a latest Ghanaian Music Sensation who broke into mainstream in January via a viral freestyle he did for one of his popular songs "Novayi".
Since then, Chief One has grabbed the opportunity to launch his debut EP "Here I Come" with 6 songs, all recording bangers. "Here I Come" EP he released on February 21, 2022 has crept beyond 1 Million Streams across all music platforms; he recruited Omo Marani and DD Don on the catalogue.
Chief One's hardwork and enthusiasm coupled with powerful and deep lyrics, which are mainly done in his local dialect, Ewe, has scored him 5 envious nominations in different award schemes thus far, namely, 3 Music Awards, Vodafone Ghana Music Awards, Ghana Music Awards USA, Ghana Entertainment Awards USA and the latest one being Ghana Music Awards France.
Out of the 5 major nominations — all copped this year, he won his nominated category under 3 Music Awards as the "Next Rated Act", nationwide; he received some freebies from giants Mobile Phone Company, Infinix Ghana. Prior to this he has won "Hiplife Artiste Of The Year" at the 2018 Edition of the Volta Music Awards out of 4 nominations that year.
"Du Agbe", his 5th officially released video from his EP is another monster jam still shuffling various playlists across after jams like "Novayi", "Mekamo", "Young Boy" and "Nyemedzio" also shot him up.
Watch "Du Agbe" Video here on YouTube below:
Chief One is an Indie artiste who hails from the Volta Region of Ghana and runs his own clique called Lawada Republiq, with one of Ghana's most sought after Publicist, Elorm Beenie, in the frontline taking care of his publicity and promotions.
Chief One was in Lomé, capital of Togo last weekend to activate "Turn By Turn" inside Scale Out Night Club and other joints to increase buzz for the song within the West African enclave. He has a huge following from the francophone zone which is fast spreading into other neighbouring countries.
Below are his social media handles.
Facebook: @ChiefOne
Instagram: @Chief__One
Twitter: @Chief__One
TikTok: @ChiefOneLive