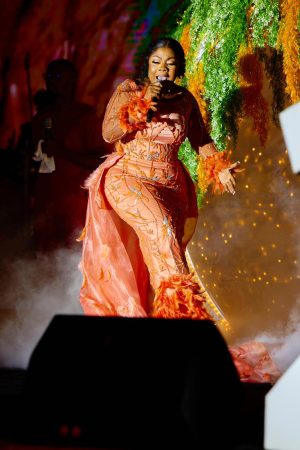 it was a night filled with uncountable memories at the Junction Mall located at Nungua, as Empress Gifty dazzled patrons at this year's The Resurrection Effect Concert (TREC).
Yokes we're broken, failure, disappointments, diseases and bad luck were crashed to death, as anointed musicians led the charge.
The amazing night started blossoming with performances from the opening acts, on the glamorous and glittering stage put together by the Empress Gifty Ministry.
The moment everyone was waiting for came, as Oheneba Clement usherred woman of the night Empress Gifty in with some appellations.
To the surprise of many, Empress Gifty stunningly emerged on the stage from a tomb filled with haze and brought out doves in reference to the theme; 'The Essence of the empty tomb.'
A performance which was characterised by prayers, singing and praises to the glory of God.
Empress gifty went on to deliver spectacular back to back performance and ushered other supporting artistes like Rev. Perry Loko, Eric Jeshrun, Jack Alolomi legendary duo, Tagoe Sisters, and Nigeria's Peterson Okopi on the stage.
Before her second entry, she was also joined by Minister of Trade, Allan Kwadwo Kyeremateng.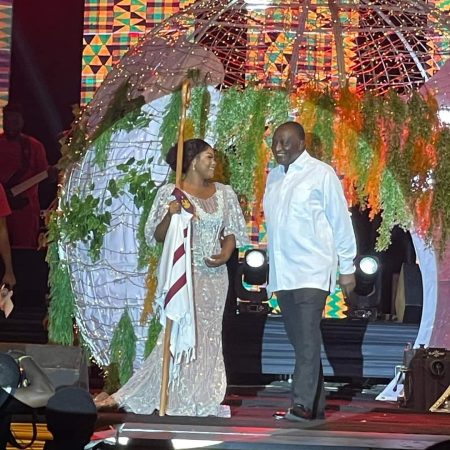 The programme was attended by some traditional leaders including His Royal Majesty Eze.Amb Chukwudi Jude Ihenetu ( The Paramount King of Ndi Igbo Ghana) among others.
Other gospel musicians like Legendary Helena Rabbles, Mary Ghansah, Ohemaa Mercy, Joyce Blessing, Rose Adjei, Kofi Sarpong among others were there.