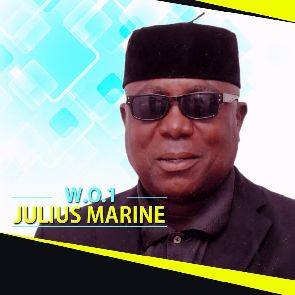 Ex military officer ,Julius Marine has released his latest single track titled "Do the right thing.
As someone who has interest in advising the public through his music ,'Do the right Thing' advises specifically the youth against social vices. The song was produced by Abea Emma.
Known in real life as Julius Akwei Brown,Julius Marine joined the Ghana Army in 1977. He had great interest in music, and so he learned to play the bass guitar in school.
He partook in competitive singing, and also played the bass guitar alongside bands from the military. He was a founding member of Mighty Progression Band of the Ministry of Defense and also played various bands in the city of Accra.
Julius Marine in his school days composed songs for the school band and church.
After leaving the Ghana Army a couple of years ago, he started serious "commercial " music recording.
Apart from 'Do The Right Thing", which is currently enjoying airplay, some of his compositions are: Tribute to the late Major Maxwell Mahama, Kpa Fee Mo,"Stop the wars, Aware Pa and "Baka Beriba".