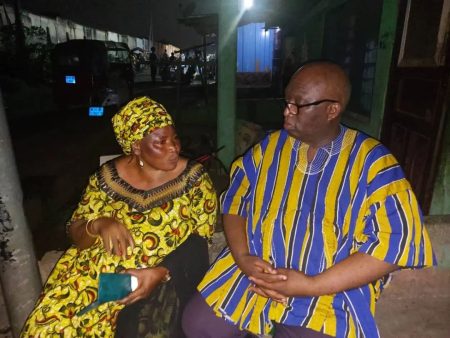 Hon. Joe Ghartey, Former Attorney General has stepped beyond political and governmental outfit to engage with some citizens of Akwatia Line in Kumasi.
In these turbulent times that many people are going through a lot and know not what to do, some of the simplest things we could do as citizens, sometimes, is to call on our fellow indigenes to check on them if not to commune with them or break bread.
The thoroughbred Lawyer was elated about the heartfelt reception he had from them. In a social media post he made from his Instagragm page, he writes…
"Politics is about big things but it is also about small things. It's about making friends and friends becoming family. I spent a thoroughly enjoyable evening with friends who have become family, drinking ataya and having an interesting conversation at Akwatia Line in Kumasi… 2/11/22"
You might want to check out his main post via the link below and see more photos;
View this post on Instagram

Hon. Joe Ghartey was in the news recently where he took only a Bible and a Wedding Ring from his son-in-law who was marrying his (Joe Ghartey's) Daughter; as done traditionally, many would take a hefty bride price from the groom but Hon. Joe Ghartey who wanted to change the status quo went otherwise – a very plausible act he did that got many netizens and Ghanaian citizens throwing more reverence at him.
Hon. Joe Ghartey is a Ghanaian Politician, a seasoned Academic, a Lawyer and an Author. He is current Member of Parliament for Essikado-Ketan Constituency in the Western Region of Ghana. His hometown is Shama.