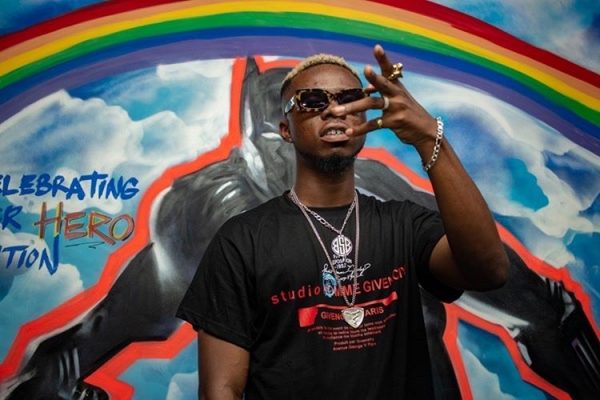 Ghanaian hypeman with a finesse Berima Seanbills (BSB) has impacted not just the Ghanaian nightlife scene but also the popularization of terms.
The A&R of Twist Entertainment Legacy is widely credited for the trending urban term 'Wo Gyiii'.
'Wo gyiii' is the short term of the offensive vernacular word 'Wo gyimi nu' (meaning your fooling)- in a cool form.
https://www.facebook.com/1229273378/posts/10214542791663404/
The term came out due to an intercity social media banter between Kumasi – Accra in 2018 that got BSB furious and he addressed it on social media.
Check Out : Aboot – Come Pass (Aye Half Cast Riddim) (Prod. by Bra Kay)
As a way of addressing the trolls Berima started using the word 'wo gyimi nu' on the mic but some patrons found it as offensive thus BSB coined the jargon 'Wogyii' from wo gyimi nu' and the rest is history.
https://www.facebook.com/1229273378/posts/10212294457536456/
The term 'Wogyiii' has influenced the Ghanaian millennial culture with DJs, Artistes, and fans using the term in a cool manner.
Recently Berimaseanbills' Wogyii voice jingle featured on  BBC radio 1, IOS Radio Toronto and the Vodafone Ghana Music Awards stage (Darkovibes & King Promise set) courtesy the iPhone DJ.
https://www.instagram.com/p/CEhLPk9pM5D/?igshid=1jh57uiu6xt8y
BSB has consistently promoted the word Wogyiii as his moniker on every stage he's performed on.
According to BSB Wogyiii is not an insult or offensive word but it's just a positive word to be used as greetings and sound bite for DJs.
https://www.instagram.com/p/B-7Zsb4pB1y/?igshid=160fj141g9jgc
Seanbills is known to be a trendsetter he made a soundtrack for his terms "y3 wo kese3" Bigging which got Floyd Mayweather's attention featuring his artist Friyie & singer Broni.
The term also inspired the biggest song of the moment La Hustle by Medikal featuring Joey B and Criss Waddle.
'Wo gyiii' is a movement and BSB plans to develop merch designs, ringtones, caller ringer back tune, soundtracks, and more for 'Wo gyiii' worldwide Gang to enjoy the trend.
This is huge undoubtedly and the only way to get BSB to reach a higher height is to inspire him on.
If you happen to be an artist, producer, music fan, etc then he deserves your love.
Congrats champ more medallions for your hard work.
Berima Seanbills has curated an exclusive playlist called Accracountry, which is currently an Official Boomplay Ghana playlist where you discover the best of Ghana Club songs making waves on the streets of Accra and beyond.
Accra country aims to be a leading digital curator to push Ghanaian music and GH pop culture through music, nightlife, and lifestyle" Berima Sean Bills said.
Stream AccraCountry playlist: https://www.boomplaymusic.com/share/playlist/16576644?srModel=COPYLINK&srList=IOS
Berima Sean Bills has been at the forefront of pushing Ghana and Afrobeat to the world.
The Official MC for Twist Nightclub also doubles as a Label Executive for Twist Entertainment Legacy record label sign Afrobeat singer Kweku Afro.