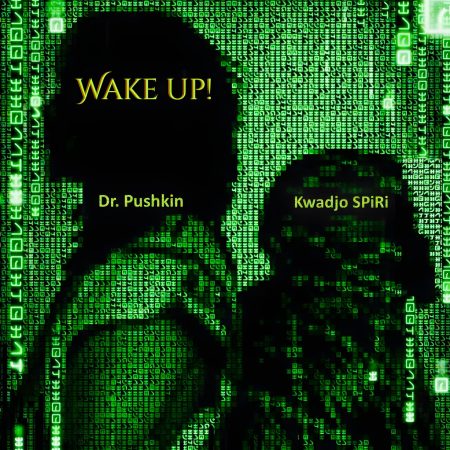 Isolirium signals the end of an era, and the death of an assumption premised on a warped appreciation of rap as an art form of communication. There was a time when rap appeared to be the preserve of the uneducated, or people perceived to be from lowly backgrounds. However, artists like Dr. Pushkin and Kwadjo SPiRi stepped up their game. We can only be excited about a strong representation of Ghana in the league of conscious rappers.
Isolirium Drops Wake Up!
Wake Up! is a single from the yet-to-be-released "Outlandish" album by Dr. Pushkin. It raises the fundamental source of attainment found in staying awake to face the realities of this one chance to live on earth. Taking in all the distractions and maneuvering, the song's lyrics from the two artists present a whole way out. In the process, reassuring rap lovers that nothing can't be achieved. However, the mindset and approach remain key.
Coming on the heels of "Need You," which featured Quata Budukkusu and Ataman Nikita, Wake Up! takes us back to the themes that define Dr. Pushkin's brand. He appears focused on what influences thought and stirs man towards idealism.
Recruiting Kwadjo SPiRi for this specific song is telling of Isolirium as an entity and the desire to work with like-minds. Coming from an enviable educational background, Kwadjo SPiRi doesn't have the slightest semblance of a bar-filled guy. However, his lyrics on the song came in as a complement to the general idea of the song. Wake up! It is, therefore, a song that remains an ultimate forerunner in the world of conscious music.
The music video that accompanied this beautiful work has further confirmed the value of the song—garnering over 85000 views in less than 12days. Also, it peaked at number 5 on the YouTube Charts for Ghana; we can only be glad to have the lead artiste from Isolirium, Dr. Pushkin & Kwadjo SPiRi, on one song.
The Men Behind the Song
Wake Up! is performed by Dr. Pushkin and Kwadjo SPiRi. With production coming from Paul Azunre, Nikita Tolkachev, AzkonnaBeatz, 2kings007, and Phredxter Beats. The music video was shot and directed by Mickey Johnson.
In the beginning, rap, as an element of Hip Hop, served as a voice for the voiceless. The genre often sent messages to authority and the community through wild and impeccable lyrical flow. Often on intriguing beats made by some of the most creative people music has ever known. Down the line, the gang, drug, and sex culture invaded and appeared to gain a foothold. However, some rappers stayed true to using the genre as a tool for communicating what could enhance society, maintain balance, and keep all grounded on a positive trajectory.
Isolirium is a Record Label founded by two artists, Dr. Pushkin (Paul Azunre) and Ataman Nikita. The two brothers honed their talents for a long time, eventually focusing on Hip Hop, Afro-Fusion, and Afro Beats. They have stood out from producing their records to adding all the elements that make a great song. Rumor has it that they are recruiting a few other Ghanaian artists to invade all aspects of the music industry.