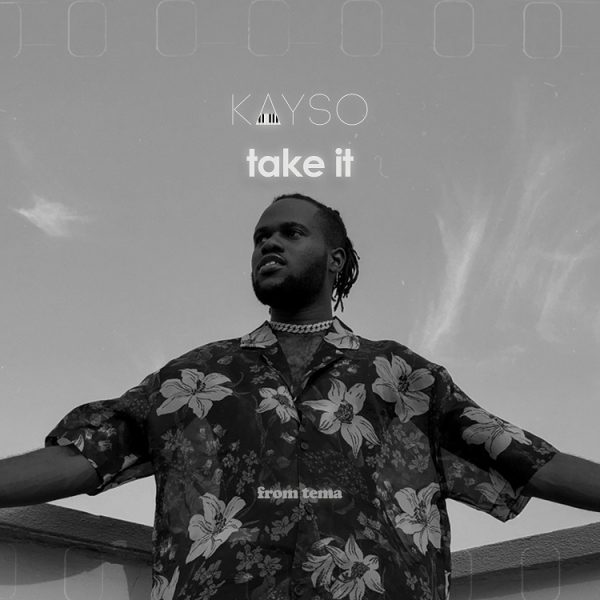 Successful hit producer Kwame Owusu, known as KaySo (from Tema) shows a more bold and smooth side with his new song titled 'Take It.' Expressing his feelings for a love interest who is playing hard to get, he croons, "other girls give me attention, but if it no be you I no want am so…"
KaySo pushes the authenticity of Afro sound by crafting this 2:45 minutes tune with a great replay value.  He promises longevity, and money in the lyrics to his love interest whiles showering her with praises.
The ode got a very compact production from the Ghanaian singer Producer, who recently signed to Ghanadon music group/ Empire and to be fair Kayso is a pro with it, having produced many hits for the forefront artists in the country.
Check Out : Yaa Pono – 1997 (Sikabiom) (Prod by Dr Ray Beat)
The song dropped with a video that immediately lightens your mood even further, the scene opens with a familiar Accra Cityscape, a bubbly and energetic young lady as described in the lyrics, even better the expression on her face is one that tells she might be a little more interested than we can imagine. KaySo is seen having fun with it as his mannerisms are nothing short of carefree (I can imagine that just from the choice of fashion), and playful, as best as one can when playing Hide and seek with a love interest.
With the emphasis on colour, tone and moods, the video is a perfect accompaniment to this first single 'TAKE IT' off the upcoming EP.
Kayso definitely shows no signs of letting up on the music scene. This feel-good tune (right in time for summer) is something you can catch a vibe to as soon as the beat drops.
Stream "Take It" here: https://empire.ffm.to/takeit
Watch video here: