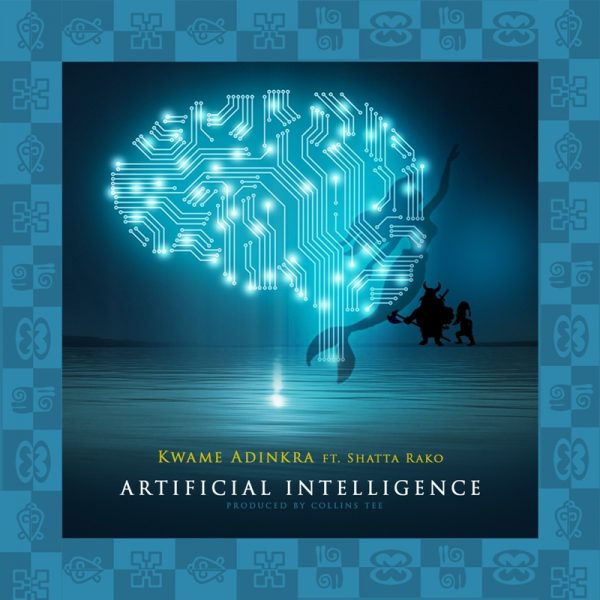 Award-winning broadcaster Kwame Adinkra is out with new music titled Artificial Intelligence featuring dancehall artist Shatta Rako.
Currently, the host of Pure FM's Morning show, Kwame Adinkra has always showed his musical side with releases such as Fiona, Nunu Me and I don't care.
Stream Artificial Intelligence: https://orcd.co/kwameadinkra
The song 'Artificial Intelligence' was inspired by Dan Brown's novel 'Origin' which places emphasis on technology and downplay the spiritual powers of venerated spirits.
Check Out : Bena Kay – Cooli Down (Prod. by Akwaboah)
The song set a stage of a desperate lover looking for ways to get to his partner and eventually make use of Google Maps and GPS.
Artificial Intelligence was written and composed by Kwame Adinkra and technically engineered by Collins Agyemang, aka, Collins Tee of Mussive Music, Kumasi.
Artificial Intelligence features Shatta Rako and Malissa and Mon the Apotiti Record Label.
Enjoy Artificial Intelligence by Kwame Adinkra featuring Shatta Rako.
About Kwame Adinkra
Kwame Adinkra is legendary broadcaster with almost 3 decades of industrial and professional experience. He is the Chief Operating Officer of Angel Broadcasting Network (ABN, Ghana) and the Business Manager of Pure FM. The multiple award winner is also the Morning Show Host of Pure FM.
He holds MPhil in Communication Design from KNUST and winner of VGMA Record of the Year 2012 with a hit song, Abena Dansoa featuring Kwabena Kwabena.
Kwame has three albums to his credit: Mmoatiahene, Feyiase and Kosopre.
He is a family man and a proud Akatakyie.