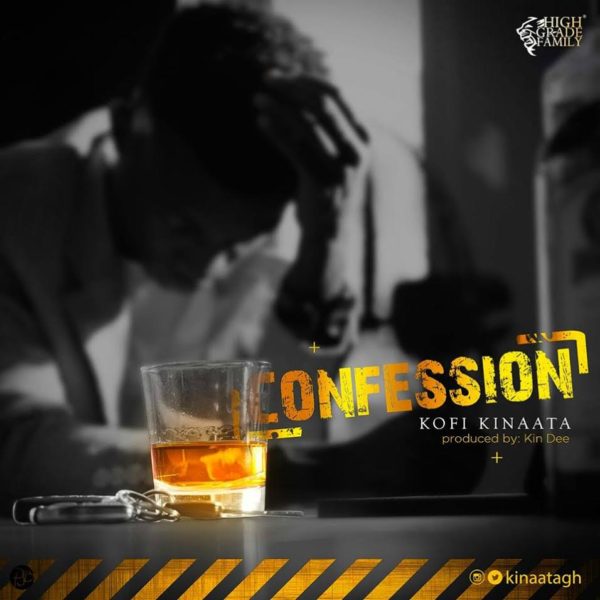 Introduction: There is one thing that comes to mind when you hear the song with this chorus:
"Ewurade bɛgye steer no oo
Na 'me, maabor oo
Menhu ade oo
Mere yɛ ma lock oo!"
WATCH: Lilwin Interviews M.anifest On UTV's Day With Stars
Drunk driving! That is exactly what Kofi Kinaata's latest 'Confession,' the hottest song at the moment, talks about.
Beat and Instrumentation: The mid-tempo song, done in key E Minor, is nicely produced by Kin Dee. The beat is very danceable with a simple baseline and a kick pattern of 1/1 time signature.
Genre: There are debates about the true genre of 'Confessions,' stemming from its not-so-distinct rhythm, instrumentation and style of singing. 'Confessions' is not hip life. The beat/instrumentation does not evoke the indigenous highlife qualities but it still bears prominent streaks of the highlife groove than hiplife. The rap constitutes a minute portion of the entire composition – hence 'Confessions' leans more towards highlife than hiplife. On a scale of 0 to 10, in testing the 'highlife eligibility' of the song, I place it at 6.
The Singing: Kofi Kinaata is not the Akwaboah or Kwabena Kwabena type of singer. He is a singer who basically sings to key, rhythm and notes. However, his style of singing catches on well with different strands of people because it is simple and easy to relate to. He exudes that characteristic in 'Confessions.' Kofi's ability to rap and sing is a feather in his cup. There is a reason Sarkodie mostly features singers on his songs; melodies speak the 'universality of music' language more than rap. That is why it is easy to appreciate a piece of music SANG in Swahili more than a RAP MUSIC done in the same language (that is, if you don't understand Swahili).
The Rap: The rap is short and catchy. It is embroidered with wit and creativity. The word play alone is a plus! In fact, it is good he did only two short verses of rap. Otherwise, it might have marred the beauty of the entire 'sweet' melodies sang through the verses.
Style and Message: There is always a way of breaking monotony if you are an art person. Different art forms and styles are available to explore. In 'Confession,' there is a character (played by Kofi Kinaata) telling a story in the first person narrative.
The character, drunk after a Friday night hangout at the club, calls on God to take the steering wheel of his car because he can't see well and cannot drive back home. He tells how he habitually roams about living debauched lifestyle.
A Party Song for Drunkards?: It will not be surprising if 'boozers' jam to the song more than the ordinary music lover because it mirrors the exact life of a drunkard and their affinity to the song is no gainsaying.
That notwithstanding, Kofi at the end of the song, advises people not to drink and drive. That is basically the moral of the whole presentation couched in the composition.
Conclusion: Kofi is creative. 'Confessions' confesses the great talent Kofi Kinaata possesses. The song should be adopted by the National Road Safety Commission as a road safety campaign song. I rate it 91%.
Click on the link below and listen to 'Confessions' by Kofi Kinaata, produced by Kin Dee.
Kofi Kinaata – Confession (Prod By KinDee) 
Written by Kwame Dadzie