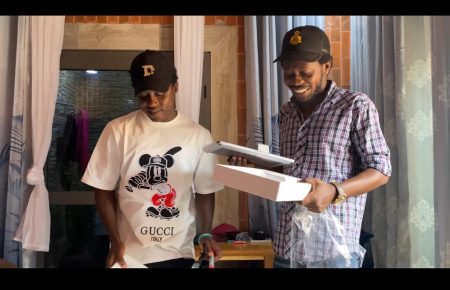 Joseph Luminary Adzrago, a songwriter, philanthropist and producer who has set himself aside, especially in the music industry has yet again set exemplary conduct as he honours Cashtwo with a brand-new laptop for working on his album (Discovery).
The artist known on stage as Luminary DMR is arguably one of Africa's astonishing influencers and with this attitude of gratitude, it is undoubted that the industry will learn something positive. It's not enough sometimes to say thank you to those behind the scene but letting them share in your success and letting them know their work matters is important. That was exactly what Luminary did with his benevolent gesture.
Cashtwo is an amazing recording producer and a singer who himself has produced great songs. It is therefore not surprising that he has been celebrated for producing mind-blowing songs, for which reason Luminary elects to work with him on his Discovery album. Out of the 16 songs, on the album, Cashtwo produced one song titled "No bi so". Thus, in endorsing the beat for the music, Luminary presented the new laptop to Cashtwo.
The much-anticipated album will be launched on the 27th of May 2022. The album has 16 outstanding songs that speak not only to the heart but to the mind as well. The album is being masterminded by Kaywa beat /Highly spiritual music in a partnership with UNXT/Universal Music Group. It is anticipated that the album will make waves on various platforms due to the mouthwatering experts' hands on it. It is a major collaboration and Luminary DMR music lovers are eager to see its outcome.