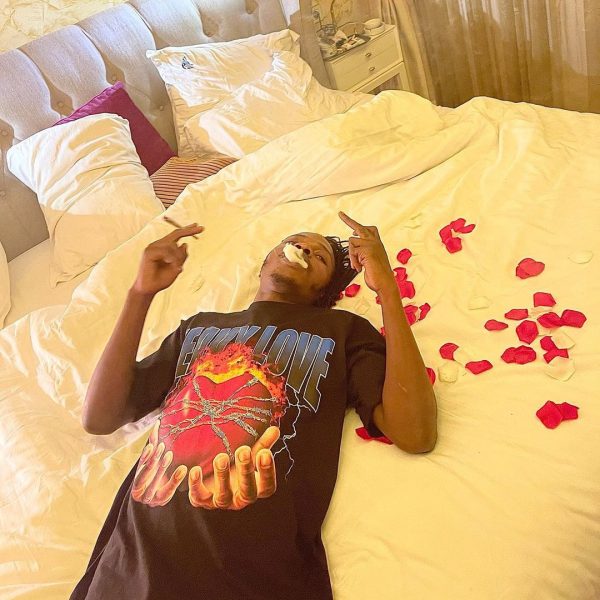 With this song, Naira Marley and Busiswa started a social media challenge with a video of them dancing on Instagram on the 29th of March 2021, after the release of "Coming".
Marley wrote in the accompanying message,
#COMINGCHALLENGE with @busiswaah Get yourself a partner or partners and join the challenge. Number 1 song right now. Naira Marley x Busiswa – Coming @nairamarleymarlian.
Yeboooo
Nangk' uBusiswa
Naira owase
Nigeria wo Jamaica
Africa continental
Busiswa baby
Mo ti wa e ti pe
Mo fe de de de
Je kin de de de
Busiswa baby
Mo ti wa e ti pe
Mo fe de de de
Yo Rexxie pon this one
Je kin de de
They'll be sucking
Fucking, orgasm, fantasy
Shivering, cumming, touching, kissing
In the rain, In the sun
Upstairs, downstairs
In the car, bedroom
Sitting room boom boom
I'm coming, (Ooh) I am coming (Ooh)
I'm coming, (Ooh) I am coming (Ooh)
I'm coming, (Ooh) I am coming (Ooh)
I'm coming, (Ooh) I am coming (Ooh)
Spooning, Missionary
Doggy style, Cowgirl
Climb on top, or should I come on top
Sloppy top, don't stop
I'm coming, (Are you coming?) I am coming (Are you coming?)
I'm coming, (Are you coming?) I am coming (Are you coming?)
I'm coming, (Are you coming?) I am coming (Are you coming?)
I'm coming, (Are you coming?) I am coming… I'm coming
When I push it in
All in my thing, Hard thing
Ooww oh aaayy ouu
She say ooww oh, aaayy yee ouu
We've been smoking, drinking
Loving, loving, loving, loving, loving, loving
We've been smoking and drinking and loving
Good Loving, loving, good loving, loving
Une glow
Uvel' endodeni
Ndo de de deni
Ndo de de deni (ey)
Une glow (une glow)
Uvel' endodeni (ndodeni)
Ndo de de deni (ndodededeni)
Ndo de de deni (de de deni)
Indo de kudeni,Kade uveleni
Noma ungavel' ekudeni
Uvel' endodeni,Koda embhedeni
Bambe njenge teni
Kuthiwa kwa here for life
Kuthiwa kwa mine
Got a wack ass pussy
My name is Busi
I keep you busy
Its all a hustle
Busiswa baby (ndim' lo)
Mo fe de de de, Mo fe de de de
Mo fe de de de, Mo fe de de de
Yebo!
Busiswa baby
Mo fe de de de, Mo fe de de de
Mo fe de de de, Mo fe de de de
South Africa stand up
Nigeria stand up
Stand up, Marlian stand up
Stand up, South Africa stand up
Nigeria stand up
Marlian stand up
Check Out : Samini (Batman) – Gyae Shi