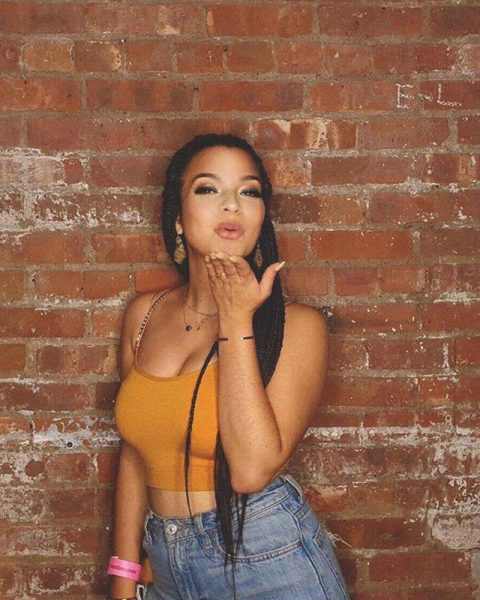 Is Amerado ever going to stop amazing viewers of Yeete Nsem? I believe this is a question every fan of the trending weekly rap series would ask.
The rap series seems to build on the interest of its viewer each and every week with mind-blowing 32 episodes.
Amerado with his latest episode saw a guest appearance from California who goes by the name Elena and happened to be the first international artiste to be featured on Yeete Nsem.
Check Out : Kwabena Kwabena – Odo Mene Woa
Referencing a post made by Elena on her official Instagram account, she stated "Spent the day with the best rapper himself, the incredible @amerado_burner recording music and shooting a video for his YouTube series #YeeteNsem here in Ghana. We got some stuff coming your way. Look out for it!"
IG Post embed code:
View this post on Instagram
BIOGRAPHY
Elena Pinderhughes is a vocalist and flutist from the Bay Area, California, who began singing and playing the flute at age seven. By nine she was performing and recorded her first CD, Catch 22, and at eleven she was featured in The Music in Me, an HBO special about young musicians. Fluent in many styles, she has won numerous "best soloist" awards at festivals and from Downbeat magazine. A 2013 YoungArts Gold Award recipient, US Presidential Scholar in the Arts, and Downbeat's 2016 "Rising-Star Flutist," she was a member of the Grammy Band, San Francisco Youth Symphony Orchestra, and Young Musicians Choral Orchestra.
Ms. Pinderhughes has performed in venues such as Carnegie Hall, the White House, and the Kennedy Center; at festivals and clubs throughout Europe, Japan, Africa, and South America, including Coachella, Monterey Jazz Festival, Marciac Festival, and Montreux Jazz Festival; and with Herbie Hancock, Hubert Laws, Kenny Barron, Christian Scott, Carlos Santana, Josh Groban, Common, and Future.
She appears on Herbie Hancock's upcoming album, Christian Scott aTunde Adjuah's Stretch Music (Introducing Elena Pinderhughes), Ambrose Akinmusire's The Imagined Savior is Far Easier to Paint (Blue Note), and Common's Black America Again. She is currently performing and recording with a range of musicians as well as with her own group, and touring internationally with Herbie Hancock, Christian Scott aTunde Adjuah, and Common.
In 2015 Ms. Pinderhughes signed with SRP Music Group — responsible for signing Rihanna, among others — and began her journey as a solo artist.
She is working on her debut project, which will showcase her voice and songwriting, and bring together her musicality, harmony, rhythm, and culture to create a specific sound all her own. via New York PhilHarmonic
Connect with ELENA via:
Facebook/Youtube – Elena
Instagram/Twitter – @iamelena