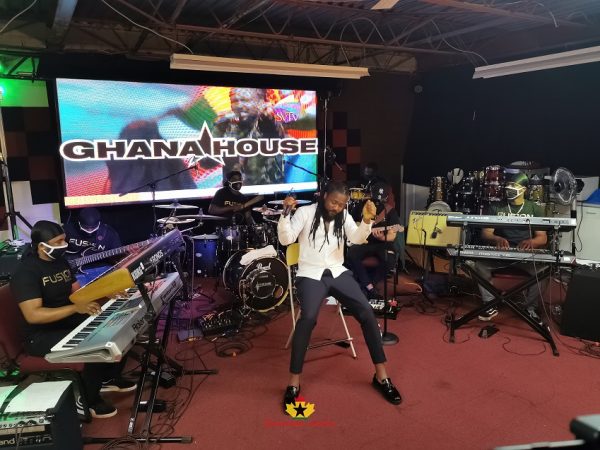 Samini is a name to fear in Ghana when it comes to live performances. With a career spanning 2 decades and still counting, Emmanuel Andrews Samini, has outlived himself only the music circles to an appreciable level that fans and critics put him in a "Living Legend" Status.
Beating the odds and raising the bar even higher for his contemporaries last weekend on Saturday, May 30, 2020, he performed for almost 3 hours with live band straight from Canada.
Check Out : Larruso – Style Up
Dubbed "SAMINI's Untamed Virtual Concert", the celebrated proud Dagaati Youth Chief (Pebilii Naa, Samini), rocked audience across the world with swooning Vocals and melodies song after song from his international award winning and Billboard.com charting album "Untamed" — a strictly one drop (Reggae) Album he released on December 22, 2018.
Samini wouldn't do a full live band set without veering into some of his timeless classics. He wove through finely crafted melodies of some of his old songs to current singles as well and it all felt like he had a full live audience before him but all was streamed over the Internet. Dozens of plausible comments registered from the live stream and after the show by fans and critics on social media. Below is what you missed, you can still watch it here:
Samini has been 'locked up' in quarantine in Canada (with his family) since March 2020 during the corona virus pandemic and since hasn't returned. The virtual concert came right in time to serenade his fans who've been starved for a while now. You can stream his "UNTAMED" Album here: http://smarturl.it/fbgca5