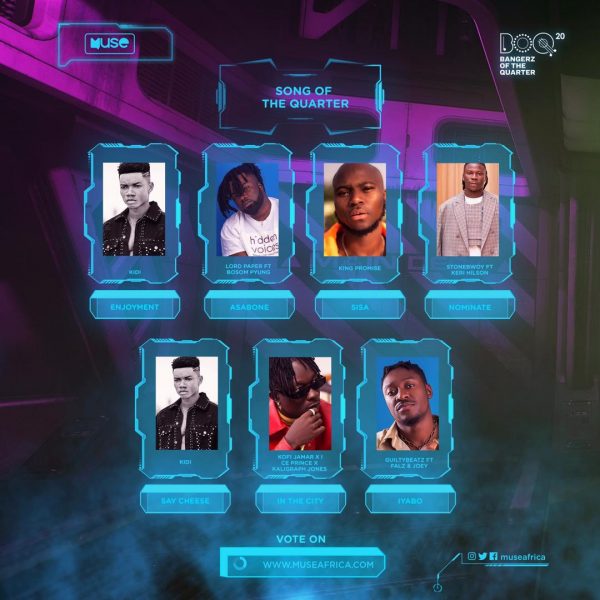 Wednesday, July 15th, Accra – Muse Media Networks have announced the full list of nominees for the 2020 Half-Year Edition of Muse Africa's Bangerz of the Quarter.
This Year's edition has 17 categories with over 50 artists nominated.
This year's Muse Bangerz of the Quarter has a new category dubbed the Comic song of the quarter category.
Check Out : Larruso – Party (Prod. by Skito Beatz)
This is to celebrate the rise of comic music in the Ghana Music.
Vying for the coveted song of the quarter award include Enjoyment and Say Cheese by Kidi, Sisa by King Promise, Nominate by Keri Hilson, In the City by Kofi Jamar, Asabone by Lord Paper and Iyabo by GuiltyBeatz.
Vote via Now: https://museafrica.com/2020/07/15/vote-bangerz-of-the-quarter-2020/
Here is the full list of nominees for MuseBOQ20 Half-Year Edition
HIPLIFE SONG OF THE QUARTER
KOFI MOLE FT FAMEYE – MA BRE
FAMEYE FT KWESI ARTHUR – LONG LIFE
STRONGMAN FT KELVYN BOY – PILOLO
MR DREW X KRYMI FT FAMEYE, DOPENATION, QUAMINA MP, BOSOM P-YUNG, KOFI MOLE – DW3 REMIX
SARKODIE FT TULENKEY – FA HOOKI ME
ENO BARONY FT SISTER DERBY & STRONGMAN – FORCE DEM TO PLAY NONSENSE
AMERADO FT FAMEYE – TWA SO
EPIXODE FT SARKODIE – ME NE WOA
AFROBEATS SONG OF THE QUARTER
TEFLON FLEX FT DJ WOBETE – MADINA
KUAMI EUGENE – TURN UP
SHATTA WALE – AKWELE TAKE
ADINA FT STONEBWOY – TAKE CARE OF YOU
KIDI – ENJOYMENT
KING PROMISE – SISA
DARKOVIBES FT KING PROMISE – INNA SONG
STONEBWOY FT KERI HILSON – NOMINATE
KELVYN BOY FT MUGEEZ & DARKOVIBES – MOMO
KIDI – SAY CHEESE
GUILTYBEATZ FT FALZ & JOEY – IYABO
HIGH LIFE SONG THE QUARTER
KOFI KINAATA – BEHIND THE SCENES
STONEBWOY – SOBOLO
DADA HAFCO – ARE YOUR BOYFRIEND'S GIRLFRIEND
AKWABOAH – POSTI ME
MR. DREW FT KELVYN BOY – LATER
LORD PAPER FT BOSOM PYUNG – ASABONE
BEST COLLABORATION OF THE QUARTER
ADINA FT STONEBWOY – TAKE CARE OF YOU
LORD PAPER FT BOSOM P-YUNG – ASABONE
DARKOVIBES FT KING PROMISE – INNA SONG
STRONGMAN FT KELVYN BOY – PILOLO
STONEBWOY FT KERI HILSON – NOMINATE
KOFI JAMAR X ICE PRINCE X KALIGRAPH JONES – IN THE CITY
KELVYN BOY FT MUGEEZ & DARKOVIBES – MOMO
GUILTYBEATZ FT FALZ & JOEY – IYABO
GOSPEL SONG OF THE QUARTER
AKESSE BREMPONG FT JOE METTLE – BLESSED
JOYCE BLESSING – YENDANASE
MOG MUSIC – MY GOD
PATIENCE NYARKO – MY LIGHT
LUIGI MACLEAN FT MOG MUSIC- OGUAMA
BEST VIDEO OF THE QUARTER
OFFEI FT PATORANKING & BLACKSTONE – FI MANO
KING PROMISE – SISA
KOFI JAMAR X ICE PRINCE X KALIGRAPH JONES – IN THE CITY
E.L – EFA WOHO BEN
KIDI – ENJOYMENT
STONEBWOY – LE GBA GBE
KUAMI EUGENE – TURN UP
GUILTYBEATZ FT FALZ & JOEY B – IYABO
DARKOVIBES FT KING PROMISE – INNA SONG
HIP HOP SONG OF THE QUARTER
STRONGMAN FT MEDIKAL – BOSSU
BOSOM P-YUNG – ODO NDWOM
FREDA RHYMZ – POINT OF CORRECTION
KOFI JAMAR X ICE PRINCE X KALIGRAPH JONES – IN THE CITY
SARKODIE – SUB ZERO
BLACKWAY FT BUSTA RHYMES – INTENSE
M.ANIFEST – NO LONG TALK
SISTA AFIA – YOU GOT NERVES
ENO BARONY – ARGUMENT DONE
FLOWKING STONE – BEST RAPPER AFRICA
JOEY B FT BOSOM P-YUNG – SILICON VALLEY
ALTERNATIVE SONG OF THE QUARTER
EFYA FT TIWA SAVAGE – THE ONE
IsKWARTENG – DREAMS AND PRAYER
STONEBWOY – LE GBA GBE
M.ANIFEST FT KELVYN BOY & KEL P – WE NO DEY HEAR
INTROLUDE SONG OF THE QUARTER
TEFLON FLEX FT DJ WOBETE – MADINA
JAH LEAD – LONELY
LARRUSO – GI DEM
KOFI JAMAR X ICE PRINCE X KALIGRAPH JONES – IN THE CITY
BLACKWAY FT BUSTA RHYMES – INTENSE
EVERGREEN FT SARKODIE – YAABA (KWAME ENUMDE)
OFFEI FT PATORANKING & BLACKSTONE – FI MANO
REGGAE/DANCEHALL SONG OF THE QUARTER
MZVEE – SHERIFF
WENDY SHAY – TUFF SKIN GIRL
FANTANA – RICH GYAL ANTHEM
JAH LEAD – LONELY
STONEBWOY – AFRICAN PARTY
LARRUSO – GI DEM
J.DEROBIE – BACK IT
SHATTA WALE – SLEEPNESS NIGHT
BEST RAPPER OF THE QUARTER
SARKODIE – SUB ZERO
BALL J – LULLABY
M.ANIFEST – NO LONG TALK
FREDA RHYMZ – POINT OF CORRECTION
ENO BARONY – ARGUMENT DONE
STRONGMAN – BOSSU
FLOWKING STONE – BEST RAPPER AFRICA
ALBUM/EP OF THE QUARTER
THE TRUTH EP – KOFI JAMAR
ANLOGA JUNCTION ALBUM – STONEBWOY
LAVA FEELS – JOEY B
BLUE EP – KIDI
DIFFERENT – GUILTYBEATZ
KPANLOGO – DARKOVIBES
PRODUCER OF THE QUARTER
M.O.G BEATZ
STREETBEATZ
KAYSO
GUILTYBEATZ
COMIC SONG OF THE QUARTER
AY POYOO – GOAT
AJEEZAY – APP
SDK FT CLEMENTO SUAREZ – AFRICAN BEATING
DKB – NOVDEC RAPPER
MALE ARTIST OF THE QUARTER
KIDI
SARKODIE
STONEBWOY
M.ANIFEST
STRONGMAN
KELVYN BOY
BOSOM P-YUNG
FEMALE ARTIST OF THE QUARTER
ADINA
ENO BARONY
FANTANA
SISTA AFIA
FREDA RHYMZ
SONG OF THE QUARTER
KIDI – ENJOYMENT
LORD PAPER FT BOSOM PYUNG – ASABONE
KING PROMISE – SISA
STONEBWOY FT KERI HILSON – NOMINATE
KIDI – SAY CHEESE
KOFI JAMAR X ICE PRINCE X KALIGRAPH JONES – IN THE CITY
GUILTYBEATZ FT FALZ & JOEY – IYABO