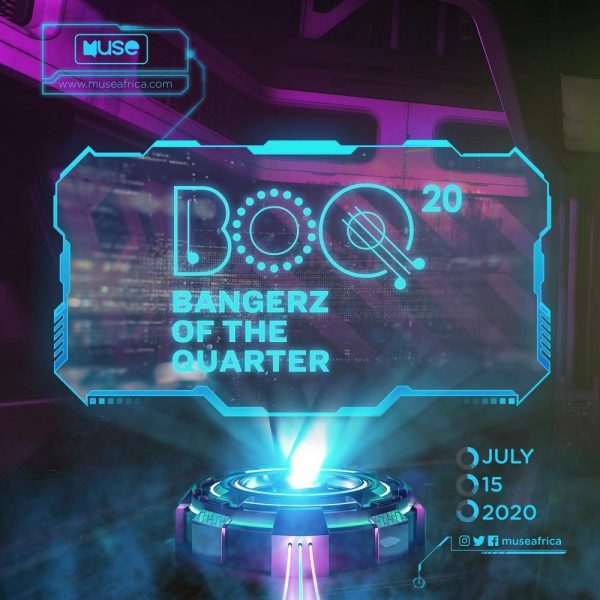 Muse Africa's digital music accolades "Bangerz of the quarter is back for 2020. The fourth edition comes with a huge package because it is part of Muse Africa's 5th anniversary.
Despite COVID-19 in 2020 our music never stopped playing as fans were thrilled across the globe with lot of music.
In Ghana, our artists went the extra-mile to give fans new music and new projects to jam to.
With that drive and desire from Ghanaian artists it is only right to celebrate them as we have always done with our Quarterly Accolades scheme Muse Africa Bangerz Of the Quarter (#MuseBOQ).
This year's #MuseBOQ is dubbed "Half Year edition".
Unlike previous editions, the first quarter couldn't be celebrated due to COVID-19 thus the first and second Quarter of the year have been joined together to give fans a more thrilling experience.
#MuseBOQ2020, will have 17 categories with a new category for comic Music.
The Nominees will be announced on Muse Africa's social media platforms with an extension on the Muse Africa Television show airing on Via-Sat on GOTV Channel 815 at 5:30PM.
Director of Editorial at Muse Media Networks, George Wiredu Duah commented:
"The music industry is going through a bit of a tough time due to the COVID-19 pandemic but despite that our musicians are still pushing out music so why not celebrate them. This year's Muse BOQ is part of our 5th anniversary so we are poised to shine the light on our stars by encouraging them to keep doing what they do best. We have combined two quarters to make sure every hard working Ghanaian is recognized. We say congratulations to all the nominees and we encourage the fans to vote to make sure their favorite artist wins."
Started in 2018, #MuseBangers of the Quarter has become a bench mark for new music, as the scheme celebrates music on a quarterly basis rather than the traditional 1 year cycle.
Previous winners of #MuseBOQ have been Sarkodie, Stonebwoy, Shatta Wale, King Promise, Guilty Beatz, Kofi Mole, J.Derobie, Eshun, Camidoh, Medikal just to list a few.
Muse Africa's Bangerz Of the Quarter is organized by Muse Media Networks.