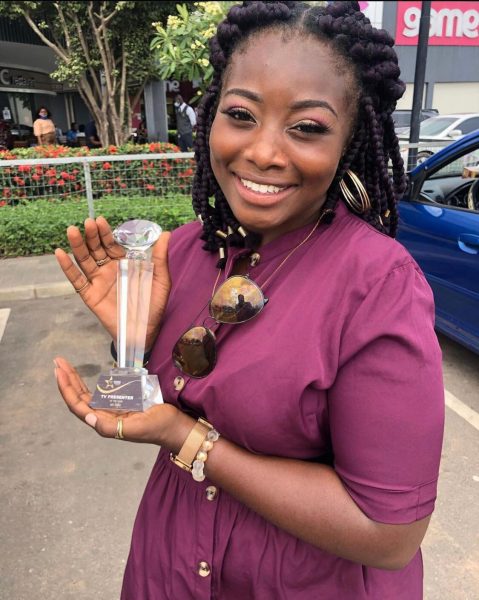 UK-born -Ghanaian based media entrepreneur, MzDru, has won the 'Best TV Presenter 2020' at the just ended Ghana Youth Entertainment Award which was held at Legon School of Business auditorium in Accra, on Saturday, October 24th, 2020.
The hardworking and bubbly radio/TV presenter who started her media journey from the United Kingdom and now in Ghana is winning lots of hearts with her affable personality and her unique way of presenting issues on both TV/Radio which has made her one of the best, you can find in the country.
MzDrudoubles as an event MC, She also hosted numerous live events such as Miss Ghana UK and Burna Boys UK concert in the O2 as well as a red carpet for The Ghana Music Award U.K, Black Women In Excellence Awards and other events. She hosted the '2019 RHYTHMS ON DA RUNWAY' red carpet and will be hosting the '2020 RHYTHMS ON DA RUNWAY' this year's red carpet.
Check Out : Motia – Dora (Feat Okra) (Prod by Hammer Last2)
The presenter whose mantra is positivity says, she is honored to be awarded as the Best Presenter 202, she will continue to be the best and she appreciates the support from her family and friends especially her fans for always being there to support her. She advised that "You should always be who you are, be yourself, and don't change anything about yourself to fit in or be accepted. You should please yourself first and not them. Be YOU no matter what. MzDru is 100% herself and not ready to be influenced or be in any trend to please anyone. It's nice to be liked, but bending over backward 24/7 to try to please others is definitely no way to live. Making actions or changing yourself based on pleasing people can lead to feelings of dissatisfaction and doubt, and can even cause you serious harm."
MzDruwhose tagline 'Your Hostess with the Mostess' added that "It is good to be inspired by other people's personalities and their success but don't aspire to be like them. Success is for everyone, you only need God's guidance and hard work to get you up there.
About Mz Dru
Mz Dru Born Drusilla Lartey is of Ghanaian and Jamaican descent born in London but raised in North West London. Coming from an area in London with so many different reviews Mz Dru decided to push through the stereotypes and chase her dreams of becoming a Radio/ TV presenter and voice-over artist in the hope that her story will be able to one day inspire and empower young girls like her to never give up on their own dreams but continue to stay true to themselves.
Mz Dru's mission is to empower people through her work and demonstrate that creativity is still a requirement for success and she's only just getting started
Mz Dru has been studying media for over 7 years and after receiving her Bachelors honors in Media Communications at DE Montfort University she decided to make sure the world knew her name. She started interning at a radio station called Bang Radio now known as the Beat London and after a few weeks of them hearing her unique voice and bubbly personality she was given her first opportunity then moving to Pulse88. Alongside radio, she has hosted numerous amount of live events. Beauty pageants like Miss Ghana and Miss Pride of Africa, awards shows like Ghana music awards and Black women in business awards, she is the resident host for 'Soulful café' and has done a lot of red carpet events as well as baby showers, weddings, music events, and discussion panels.
Mz Dru recently relocated to Ghana lin the hope of seeing what media in Ghana was like as well as an escape from the monotonous London lifestyle and is currently hosting a radio show called Girl Code on Live FM. She also co-hosted 'Live from the Capital' with JKD at the same station. She co-hosted 'Rythmz Live' 'Rhythmz Top 10 Countdown' on GhOne TV and Live Breakfast Club (LBC) on LiveXtra.
She is a brand ambassador for Mensdo Bissap, Liona Nails, Chriselle Hair and beauty spa in East Legon. The 'Hostess with the Mostess' is currently a staff of MX 24 a new television station in Ghana starting up with some industry household names and now the CEO of a food brand ' Ayeko Plantain Chips and travel vlogger.
Her hosting skills earned her a spot as the red carpet host for the prestigious Rhythms on the Runway both at the year and this year at the Underbridge East Legon.
Her unique flair and voice do not only make her different but also outstanding as an on-air and in-person media personality. Other than TV and Radio Mz Dru documents her life in Ghana on social media, mainly Instagram and YouTube. At times she experiences the life of a typical Ghanaian whether it's selling plantain or Waakye on the roads, going motorbiking in Ada down to candle making.
Mz Dru's mission is to empower, inspire and motivate others to do the things they are passionate about, whilst living their best lives"
She believes that she is a vessel that other brands can work with to influence the new generation positively. Mz Dru is committed to the advancement of youth brands with her free-spirited personality.
From the mixing board to the stage, Mz Dru has gone from chasing her goals in radio to chasing up global edits Mz Dru is definitely one to watch and there are no doubts that with her hardworking nature that she will not fail. She makes it a mission to get everything she wants smashing all obstacles that come her way.