From the shores of Africa comes a brand new mindblowing music Collaboration,
between BLACK UNIT ENT based in Ghana AND TRIPPLE X ENT in Europe, Finland.
This masterpiece tittled "My Dear Lady"was composed by Nimako of B.U.E. and High T of Tripple X Fame."My Dear Lady" has feeling of a modern Afro vibe and
an European tuoch. Song is currently trending on all  social media platforms,it has
tremendously gained grounds and seems to be the new Anthem for music lovers accross the globe,as its appears to be one of a kind in the emerging market.
My Dear lady is one of the hits on the
(BLACK N WHITE RYTHMS ALBUM)An Album that seeks to promote oneness,hope,love,peace and equality among all races.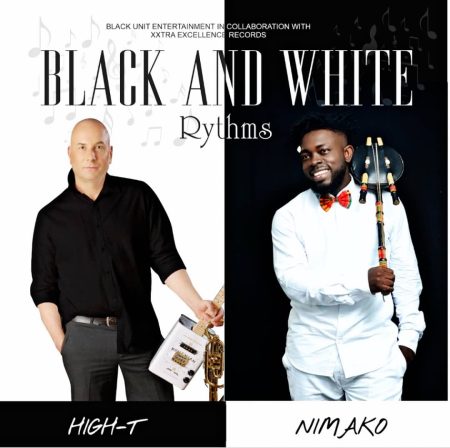 After recent hullabaloo accross the globe (THE BLACK AND WHITE RYTHMS ALBUM)sets the pace to tone
down the recent struggles of the world today.The lyrics,the beats,the originality and uniqueness of the songs communicates
volumes.
The Album has a touch of the famous "ukulele" of Hawaiian origin and other special African/European musical instruments.Album was produced by Black Unit Records(Ghana), High-T Records(Finland),Noise Camp Studio (Finland) and Moshe and sons in Israel!
Nimako who is the leading artist of Black Unit records and Co-CEO  has worked with numerous
finest producer's like HAMMER,ZAPP MALLET,KING -D,Fimfim,and
other top international producers.He released his latest solo Album entittled (AKOMA EP
which literaly meanings HEART in a Ghanaian local dialect).Akoma is curently enjoying massive airplay
on all music platforms,with constantly increasing views on youtube for
his songs on the AKOMA EP.The talented musician is currently working in the
studio's with High T of Tripple x fame.Tripple X is a well known scandinivan record label that
has over the years produced hits and one of its leading musician High-T is now now the talk of town.
The songs made from this collaboration tickles the ear drums of many music lovers across the globe, and it's a must listen for all.
The black and white Rhythms album so far has two music videos and more are expected to be shot in Ghana and other European countries.
Black and White Rhythms has two versions, an international version for all and a Finnish version in which Nimako fully sings in Finnish.
Kindly check out "My Dear Lady" song and official music video in links below. Music video was edited by directed and edited by Black Unit Concepts and shot by LexFilms. Embedded is also the cover photo of the Black and White Rhythms album.
For Enquiries and gigs kindly use the following details.
Blackandwhiterhythmz@gmail.com
+233546200880 / +16464201000