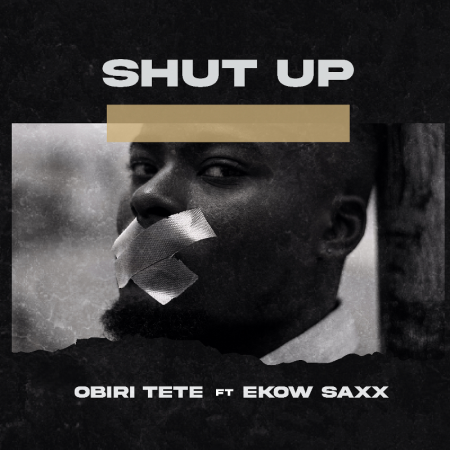 After delivering 2 classic mixtapes and 2 singles, ObiriTete drops another classic Afro-Soul genre song titled Shut Up.
Born Nana Kwame Obiri-Tete, the talented storyteller and skilled guitarist joins forces with the amazing Ekowsaxx on a song that can be classified as a classic. A song that employs the reminiscing tones of FelaKuti whiles riding on a typical and sweet high-life compliment. The standout is with the lyricism and absolute sweet backing of the saxophone by EkowSaxx.
The theme centers on the need for every human to employ silence as a tool for growth at certain stages of our lives. His first and second verses are all built on strong imagery and can best be enjoyed or digested in very sane environments. This is not your typical song…this is a beautiful work of art and should be seen as so.
More grease to his elbow and major compliments to the featured artiste and producer for bringing up something this beautiful.
The song is available in all digital stores and is distributed globally by Crux Global Music Distribution
Enjoy the full song here:
Production credits.
Composition by ObiriTete and EkowSaxx
Produced, mixed and mastered by Qwaskya
Saxophone by Ekowsaxx
Extra vocals by Betty Annan
Obiri Tete – Shut Up (Feat. Ekow Saxx) [Download]