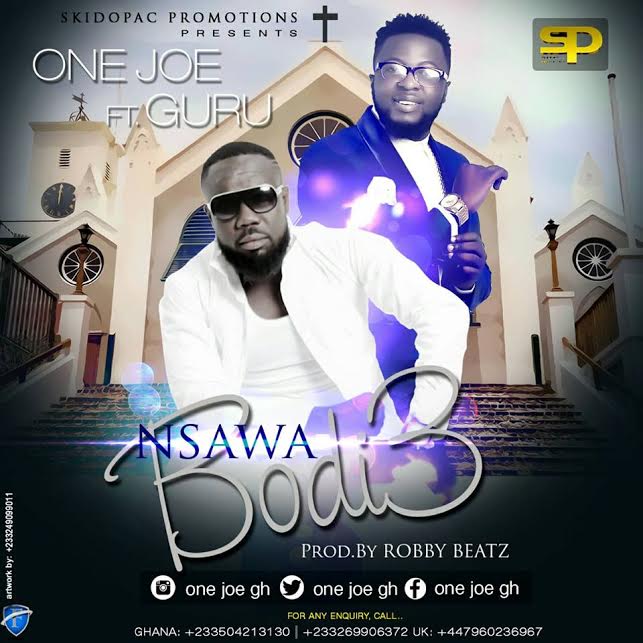 Among all the numerous issues in the world, highlife artiste One Joe chose to tackle false prophets because he believes he can save a lot of lives on his latest song Nsawa Bodi3.
On the song recorded by Mixed Master Garzy featuring Guru, One Joe real name Joshua Boateng talks about false prophets making money from innocent people in the name of God.
According to One Joe on the song, some pastors and prophets have turned our churches into a market place where they sell their olive oil, water and other items to naive church members for money.
He goes on to say that many of our innocent Christians are losing their marriage because of these false prophets and it is sad that many will go to hell because they are being led astray.
He cautions Ghanaians and the world to be careful not to fall prey to such prophets and end up losing their lives to the devil and lose heaven as well.
Guru comes in to echo what One Joe has been preaching saying knowing the true God you serve makes you a better Christian.
By all standard the danceable song is great and full of advise that will get you listening to you over and over again.
Known for other songs Botai, Donor, Mekye Wo Adi3, One Joe is hopeful of getting attention of Ghanaians because he is confident his latest song will fly.
Currently under Skidopac in the UK, One Joe who started his music career in the 90's told Showbiz that he believes he is in his own world because of his unique voice and his choice of words.
Having worked with musicians like Gasmilla, Shilo, T- Blaze, Nhyiraba Kojo, Obour and Guru One Joe said although the music is full of great talent Ghanaians will listen to him because he is good.
He would go for highlife musician Kojo Antwi as his favourite artiste.
Check Out : Gasmilla – Nipa (Prod by Spanky)
Facebook: One Joe GH
Twitter: One Joe GH
Instagram: One Joe GH
Check Out : Gasmilla – Nipa (Prod by Spanky) 
[soundcloud url="https://api.soundcloud.com/tracks/280143922″ params="auto_play=false&hide_related=false&show_comments=true&show_user=true&show_reposts=false&visual=true" width="100%" height="450″ iframe="true" /]