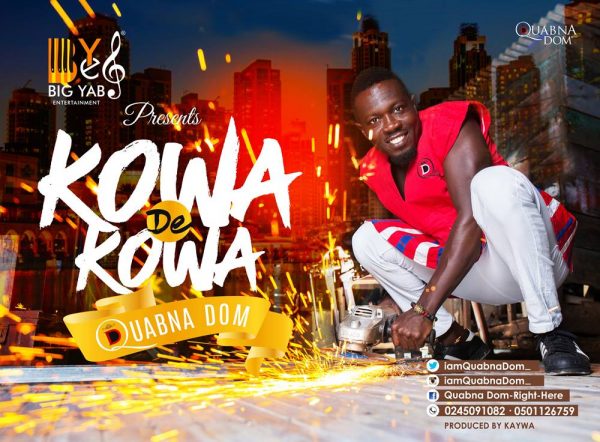 Fast rising Ghanaian singer, Quabna Dom employs the legendary music producer, Kaywa on his new single, titled 'Kowa De Kowa'.
Quabna Dom is among the very best uniquely creative artiste you could find on planet earth, as a performer, songwriter and a producer. He believe in the customs, traditions and the indigenous rhythms of Ghana and blends it with the modern trends of rhythms that defines his genre of music as a highlife and afro beats artist which he promises to sell to the world.
He's currently out with this inspirational creative piece title KOWA DE KOWA which aims to inspire people who's lost hope in life and also seeks to motivate the downhearted ones to keep their heads up and focus on the targeted goals set before them, this song cut across the old and new generation and will last forever even in the next generation and beyond.
Embed:
KOWA DE KOWA by Quabna Dom was produced by legendary award winning producer Kaywa of Highly Spiritual music studios.
The conceptual well directed video of this amazing song was shot and directed by the award winning director Xbills Ebenezer of Xpress Philms.
Quabna Dom is officially signed to Big Yab Entertainment a Ghanaian base label that manages his entire music career.
Watch Video below;
Audiomack:
Check Out : Yaw Siki – Wope Dodo