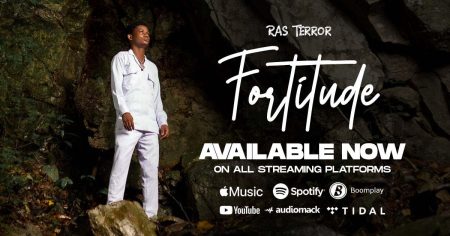 Godfred Klutse, famously known as Ras Terror, hails from Anyako in the Volta Region. His music journey has been marked by an infusion of Afro Dancehall and Afroswing, and his dedication has culminated in the release of his second EP, "Fortitude." Ras Terror's "Fortitude EP" is now available on all major streaming platforms, offering listeners a taste of his unique musical style. This six-track EP showcases his versatile talent and features a collaboration with Kush Elikem. The production of "Fortitude EP" was expertly handled by Kay Tune and Sa.Motion, creating a distinctive sound that perfectly encapsulates Ras Terror's musical vision. His EP's release wouldn't have been possible without the invaluable partnership of Shugga Creatives and Terror Empire, who provided essential support in its production and promotion. Notably, the Executive Producer, Fredrick Deladem Dro, played a pivotal role in bringing "Fortitude EP" to fruition, overseeing various aspects of the project. His guidance and expertise have contributed significantly to the EP's overall quality and impact. Ras Terror's "Fortitude EP" is more than just a collection of songs; it's a testament to his unwavering dedication to the music industry. With this release, he invites music enthusiasts to embark on a journey through Afro Dancehall and Afroswing, experiencing his unique blend of rhythms, melodies, and lyrical prowess.
https://songwhip.com/rasterror/fortitude
This EP is a promising addition to Ras Terror's musical journey and a testament to the rising talent emerging from the Volta Region of Ghana. As "Fortitude" resonates with listeners, it's clear that Ras Terror's distinctive sound will continue to make waves in the Afro music scene. Be sure to check out "Fortitude EP" on your preferred streaming platform and immerse yourself in Ras Terror's captivating musical world.