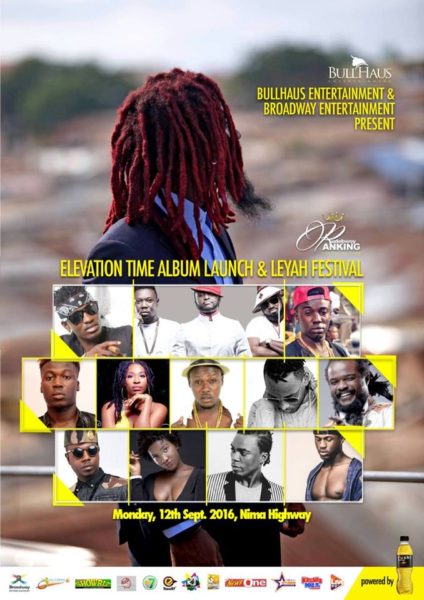 After a long wait, Rudebwoy Ranking is set to release his "Elevation Time" debut album. The Bullhaus Entertainment signed act has been wetting our appetite with non-stop releasing of singles and he kept adding the caption "Elevation" to each of his posts. It's not surprising that it ends up as the name of the album.
Check Out : Stonebwoy – Sapashini (Viral Video)
It's happening on the 12th of September on the Nima Highway and this will double as a celebration of the "Leyah Festival". What a wonderful day to bring fans of the Ruddest Movement to do their own thing.
Bullhaus Entertainment and Broadway Entertainment are making this happen as the event will not only features performances for the dancehall Anas alone. Tinny, VVIP, Criss Waddle, Wisa Greid, AK Songstress, Epixode, Ras Kuuku and many others will be on stage to show their support their support.
The media partners are Broadway Entertainment, Graphic Showbiz, GhanaMusic.com, TV7, Trace57, 4Syte Tv, 30 Minitz Live, Hajj Ram Sport Consult, News One, StarrFM, Kasapa FM and Live FM. It is powered by Rush Energy Drink.