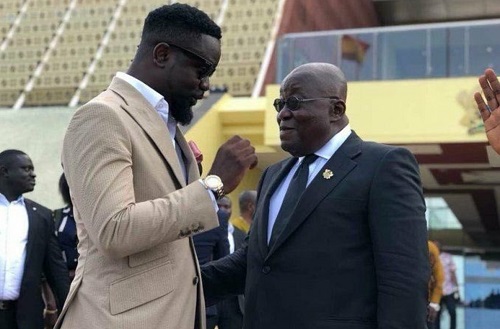 Music lovers are eagerly waiting for rapper Sarkodie to drop his new song 'Happy Day' that features Kuami Eugene.
The song is expected to drop tonight, 2nd November 2020.
Well, snippets of the song is already trending on social media and from what Celebrities Buzz has gathered, Sarkodie endorsed President Nana Addo to rule for another 4 years.
In the song, Sark rapped that when Dumsor and inflation came, he composed a song to criticise it.
But today, the problem of Dumsor has been solved and his kids got the opportunity to attend school for free — FREE SHS.
So with this new improvement, he has no choice than to say "Nana Toaso" which literary translates as 'Nana continue'.
"When there was dumsor and inflation, I talked about it. But if today the problem of Dumsor has been solved and my children go to school for free, then I have nothing to say but to ask Nana to continue ruling", he rapped.
Listen to the audio below:
View this post on Instagram

Sarkodie is not the type that discloses his political affiliations but due to his actions over the years, people have attributed him to be a 'secret supporter' of the NPP party.
When NDC was in power, he recorded a song and tackled the issue of frequent power outage (Dumsor) and inflation.
But when NPP came to power, things are not so well but the rapper doesn't sing to tackle the wrongs in the administration of this Government.
All these from him makes people to point at him as NPP. He has just given us another reason to believe that he's indeed an NPP member after endorsing the NPP Presidential candidate a few days to the 2020 elections.
Source : CelebritiesBuzz