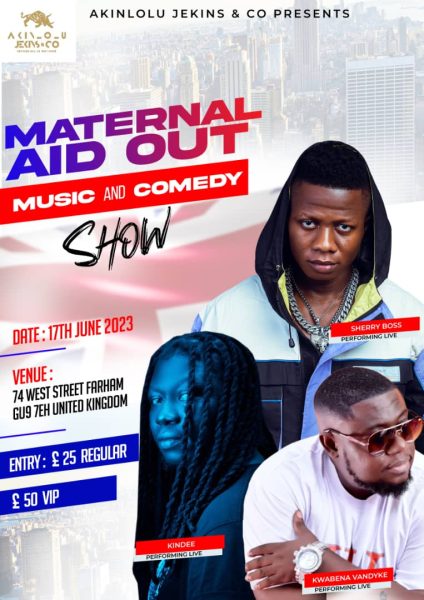 Maternal Mortality is very high in less developed countries like Ghana. According to world report, yearly almost 800 women die from preventable causes related to pregnancy and childbirth. Music and comedy is a platform which can help to highlight this dilemma to the world in general and bring about various support to help reduce it. 
Akinlolu Jekins & Co bring to us the Maternal Aid & Out Music and Comedy event. This is an event which is scheduled for 17th June 2023 at 74 west street Farnham in the United Kingdom. The event has a tall list of artiste performing for the night. Main acts for the night are Sherry Boss, Kwabena Vandyke and Kin Dee. Other entertaining acts will be added on the bill and the announcement will be made soon as and when available. 
During an interview with Frimpong Duah Agyemang who is the artist Manager for Musician kwabena Vandyke, he said he is excited to have his Artist perform on such a great event outside Ghana for the first time.  The platform will serve as a means of education and people to support with their widows might as well. 
Rate for the event is £25 for Regular and £50 for VIP. You need to get your tickets at outlets soon.