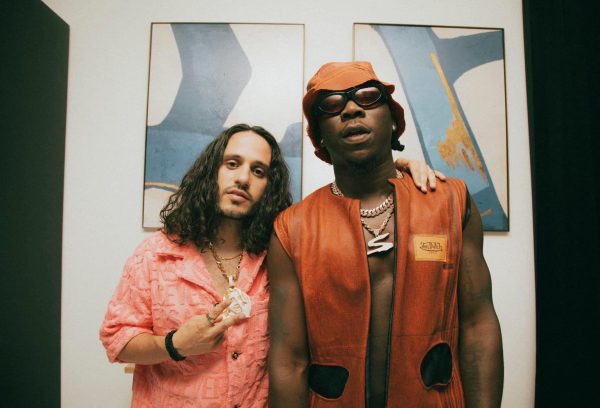 Continuing a scorching summer, Stonebwoy recruits Russ for a brand new Official Remix of his global anthem "Life & Money," available today via Def Jam Recordings. It pops off as the first collaboration between multi platinum chart-topping Atlanta rap phenom Russ and Stonebwoy, beloved Ghanaian superstar pioneer of "Afro- Dancehall"—an infectious blend of Reggae, Dancehall, and Fusions from Africa—with over 4 million followers on Instagram and over 3 million on Facebook.
Stonebwoy reups, recharges, and reignites "Life & Money" by welcoming Russ onto the track's dancehall-fueled beat. He expands the original with a signature lithe and laidback verse, complementing the mood seamlessly. In the accompanying video, Stonebwoy and Russ turn up at a house party surrounded by friends. The stylized visual threads together scenes inside the house with performance vignettes shot against the backdrop of a cloudy gray sky. As such, it instantly captivates.
"Live & Money" serves as the opener of Stonebwoy's epic 2023 album, 5TH DIMENSION. Upon arrival, it crashed the Top 10 of the Billboard Top Reggae Albums Chart in addition to gathering tens of millions of streams worldwide. Plus, it earned unanimous critical acclaim from DANCEHALLMAG and more. Right out of the gate, okayafrica.com raved, "5th Dimension is a rich representation of the expansion of Stonebwoy's soundscape, the creative transition that has seen him go from a seasoned reggae and dancehall act to a mainstream act being prepped and primed for the global stage."
As always, it hints at more to come from Stonebwoy!
Beyond "Life & Money" and "More Of You," 5TH DIMENSION also includes "Therapy," and "Far Away." "Life & Money," in particular, is a red-hot track showing off the potent fusion of reggae, hip-hop, Afrobeat, and trap talent that has made Stonebwoy one of Africa's most important new young artists. Also featured on the 5D album are Shaggy, Mereba, and Davido, among others, plus world renowned multi-Grammy® winning Beninese-French artist Angelique Kidjoon 5D's climactic closing track, "Manodzi."
Stonebwoy is an award-winning superstar who has been placing the continent firmly on the musical map with international touring, standout collaborations, and hugely popular singles since 2012. He has duetted with international artists including Keri Wilson, Sean Paul, Trey Songz, Burna Boy, Alpha Blondie, and many more. Stonebwoy has rocked some very notable stages around the world, from Spain's Rotom Sunsplash Festival(2019) and Puerto Rico's Afro Nation (2020), to the UK's Yam Carnival (2021) and the more recent FIFA Fan Festival in Qatar (2022).
Stonebwoy's numerous awards include Best International Act: Africa at the BET Awards, Artist of the Year at the Ghana Music Awards, and two Billboard plaques. He recently became the first Ghanaian artist to hit 100 million streams on the Audiomack
platform. His high-profile presence on social media, Instagram, Facebook, TikTok, and Twitter ensure Stonebwoy's close connection with fans in every corner of the globe.
WATCH VIDEO: https://youtu.be/zUhPBMqjDj8