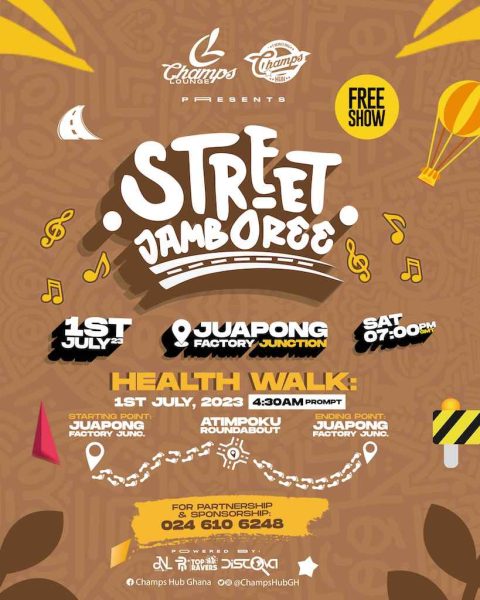 Mark your calendars for an electrifying celebration of music, culture, arts, and entertainment as the Street Jamboree takes over Juapong, Factory junction on July 1st, 2023. This highly anticipated event is set to be the biggest street jam in Ghana, promising an unforgettable experience for attendees of all ages. Organized by Champs Hub Ghana in collaboration with Champs Lounge the Street Jamboree is ready to bring the big party to town.
The Street Jamboree will showcase an exciting lineup of live performances from some of Ghana's most talented acts, including surprise guest appearances that are sure to leave the crowd thrilled and wanting more. The event will also feature a captivating dance competition, where dance groups will battle it out for the chance to claim the title of the Street Jamboree Dance Champions.
Attendees can look forward to an immersive and vibrant experience, with a wide range of drinks and refreshments available at Champs Lounge, ensuring that the festivities are both enjoyable and refreshing. Champs Lounge, known for their excellent service and dedication to customer satisfaction, will provide a top-notch beverage experience for all attendees throughout the day.
The Street Jamboree aims to unite the street in a celebration of dance, music, culture, arts, and entertainment. It serves as a platform for emerging talents, promoting Ghanaian creativity and diversity. According to Jonilar, the head of production, this event is projected to attract people from all parts of the country, creating a lively and inclusive atmosphere that showcases the rich cultural heritage of Ghana.
For businesses looking to capitalize on the bustling atmosphere of the Street Jamboree, opportunities are available for vendors and exhibitors to showcase and sell their products. Interested businesses can reach out to @ChampsHubGH on social media to secure a space.
For media inquiries, interviews, or sponsorship opportunities, please contact:
Champs Hub Ghana
Facebook: Champs Hub Ghana
Instagram:@ChampsHubGH
Twitter:@ChampsHubGH
ChampsHubOfficial@gmail.com
0246106248
About Champs Hub Ghana
Champs Hub Ghana is a vibrant and innovative event production company founded by the young and ambitious entrepreneur, Stanley Agbodeka. With a vision to revolutionize the event space in Ghana, Champs Hub Ghana strives to create extraordinary experiences that leave a lasting impact on attendees.
Established with a passion for organizing mind-blowing shows, Champs Hub Ghana has quickly gained recognition for its exceptional events. One of their most anticipated annual events is the renowned River Jamboree, which takes place every December. This spectacular show has become a highlight on the Ghanaian event calendar, captivating audiences with its electrifying performances, immersive activities, and a vibrant display of local culture. The River Jamboree offers a unique blend of entertainment, adventure, and community engagement, attracting attendees from all walks of life.