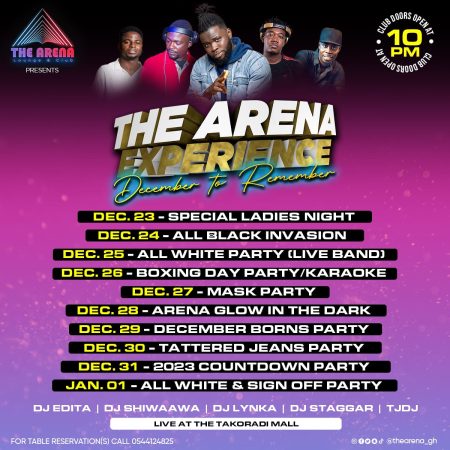 For nightlife enthusiasts, Arena Lounge has officially announced their event for the upcoming Christmas season. With their events, Western Region Cooperate Lounge Arena Lounge hopes to make this next Christmas special for nightlife enthusiasts.
Ten (10) different entertainment will be experienced in December to Remember will be available at the Arena Lounge this December. Beginning on Friday, December 23, 2022, Arena Lounge will host "Special ladies' night." Every attractive lady in the area is being honoured with this.
The All Black Invasion premieres on December 24, 2022, a Saturday. Customers are anticipated to swarm the lounge wearing just black clothing. On Sunday, December 25, 2022, there will be a "All White Party Live Band" where attendees are encouraged to wear white and enjoy a live band performance.
On Monday, December 26, 2022, the celebration continues with a "Boxing Day party and Karaoke," where night owls will belt out the tunes they adore.
The "Mask Party" premieres on December 27, 2022.
On Wednesday, December 28, 2022, Arena Lounge will host a party called "Arena Glow In The Dark" for nightlife enthusiasts. The "December Borns Party" at Arena Lounge on December 29, 2022, will ensure that December babies do not miss out on the excitement.
The "Tattered Jeans Party" is scheduled for December 30, 2022. The "2023 Countdown Party" will take place on December 31, 2022, on Saturday. This is a farewell to 2022. Arena Lounge will begin with the year 2023 with a party dunned All White and sign off party.
Dj Lynka, Dj Edita, Dj Shiwawa, Dj Staggar and TJDJ are expected to trill patrons with good music!