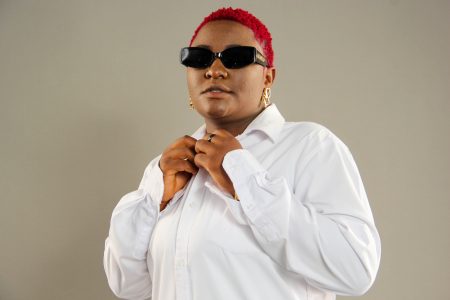 Ghana's dynamic singer and rapper, Victoria Tafamba, known in the music world as Tofamba is set to take fans on an unforgettable musical journey with the release of her highly anticipated EP, "Road To Kpandai"
The EP features a diverse range of musical genres, including hip-hop, rap, Hip-life, Afrobeat, and dancehall, showcasing Tofamba's versatility as an artist.
Tofamba is proudly signed to AWWYAS, a prominent record label, and event organizing team based in Ghana.
The EP "Road To Kpandai", is a six-track collection that includes one exciting feature and a karaoke rendition of one of her tracks. The tracks on the EP are "Level Up," "Grace," "Kaya," "Anadwo," "Forever," and "Kaya" featuring OLMYTI Kojo Atinka, "On My Way," and "Kaya" (Karaoke). With an array of producers behind the music, Tofamba's EP is a harmonious blend of talent and creativity.
The producers responsible for crafting the beats that make these tracks stand out are Gabriel Addo Mensah and Isaac Nii Yemo Odoi for "Level Up," "Anadwo," and "Forever," while Augustine Buabeng Dadzie (Auggie) takes the helm for "Kaya" and "Grace." The track "On My Way" was produced by Joshua Aime Adjei, known as Joker.
All tracks on the EP was mixed and mastered by GomezBeatx known in private life as Tito Marshall.
Tofamba has indicated that her inspiration for 'Road To Kpandai' is her life and its struggles. The budding talent has revealed she wanted to convey her personal experiences through music and connect with her audience on a deeper level.
Reflecting on her future, Tofamba expressed, "I believe in my talent and my team. I know that by working together, we can fulfill our expectations of sharing great music worldwide." Her unwavering determination and commitment to her craft continue to drive her toward success.
Tofamba's journey to becoming the artist she is today began in Kpandai, the Northern region of Ghana, where she was born on the 7th of March, 2004. She adopted her stage name, "Tofamba," which means 'Special or Worthy' in the Basare language, spoken by the people of Kpandai.
The EP, "Road To Kpandai" is set to make a significant impact in the Ghanaian and global music scene. Tofamba's unique blend of musical styles and her compelling personal Road promises to captivate audiences worldwide.
By Fiifi Adinkra