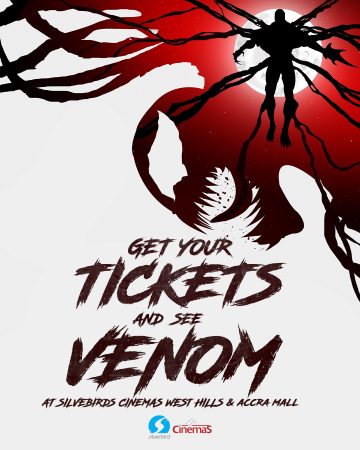 After thrilling fans and patrons to exciting blockbusters, Silverbird Cinemas is once again set to entertain movie lovers with the newest film from the Venom franchise; Venom- Let there be Carnage.
Eddie Brock is still struggling to coexist with the shape-shifting extraterrestrial Venom. When deranged serial killer Cletus Kasady also becomes host to an alien symbiote, Brock and Venom must put aside their differences to stop his reign of terror.
Venom; Let There be Carnage stars Tom Hardy, Woody Harrelson, Anber Sienna, Michelle Williams and directed by Andy Serkis. See it on the big screens at Silverbird Cinemas, West Hills Mall and Accra Mall branches. It has all the laughs, action and drama you need to relax your nerves.
Visit their website www.silverbirdcinemas.com/accra and www.silverbirdcinemas.com/westhills or call 0544310140 for more details on how to purchase tickets.
Watch trailer here:
View this post on Instagram