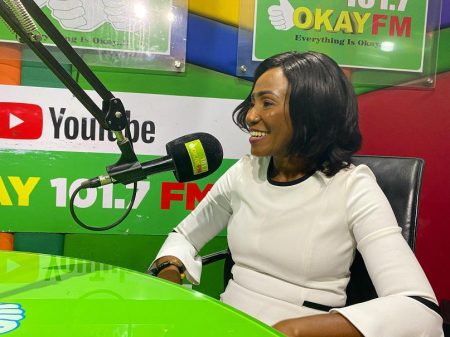 Wegeiwor – Ghanaian Gospel Singer cum Lecturer at the University of Ghana has landed a big punch! The Singer in an interview says nobody can do a good Reggae song until they are clever enough.
Explaining her words further, she said, "you have to be very deep in knowledge, very philosophical and conscious enough to find the right words to put together as a Reggae song. I am yet to find one Reggae Singer who is not intelligent."
Watch the full interview here on Youtube.
Wegiwor released a debut single called "First Love" off her upcoming EP 'Ibada'. She is due to release a next one 'Zaman Duniya' before the full EP comes out.
Listen to "First Love" here on Digital Stores: https://distrokid.com/hyperfollow/wegeiwor/first-love
Watch Official Video for "First Love", directed by Mo Sambo:

Wegeiwor who is currently on a media tour to promote her upcoming EP titled "Ibada" was having a radio conversation with Abeiku Santana on Okay 101.7fm.
Follow her on her social media pages below.
Facebook: Wegeiwor
Instagram: @WegeiworMusic
Twitter: @WegeiworMusic