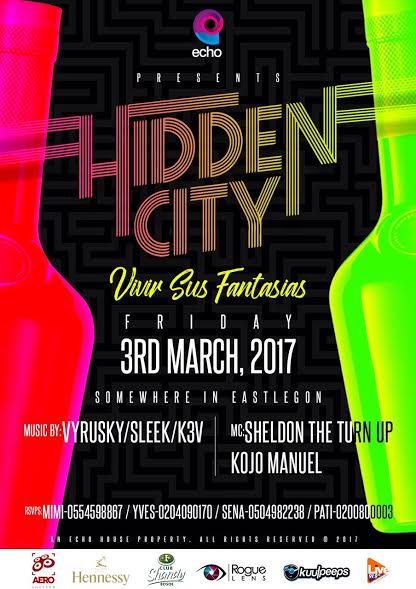 Legend has it that years ago, a bunch of students decided they wanted to party like no one's business, redefine fun and challenge the normal order of announcing your venue way ahead of the event. And that is what came to represent the finest event ever organized in Accra with the signature of constantly wowing and impressing party lovers every single time.
Check Out : Yaa Pono – Gbee Naabu (Prod. by Unda Beatz)
This party, became 'Hidden City', the place where you get to unleash your fantasies and experience life as it is in the other cities that come to life without a hustle. With a track record that defined the lives of the classes of 2012, 2013, 2014 and 2015, there are a thousand possibilities from drinks to music to experiences beyond your wildest dreams.
After demands and request from the class of 2017, the party is making a comeback that is poised to make a statement, establish an order and tell the stories of those who came before the class and the jams that made their lives at the tertiary level more than fun.
If fun is your ultimate definition of what a party is, then you have no option than DJ Vyrusky who continually keeps the dancefloor busy as the life of the party, Kojo Manuel and Sheldon who know it means to host a party. The fun fact about the 3 musketeers is that they have seen all the past 'Hidden City' to understand and appreciate the culture that has made party legends and defined social life on campus.
For the ballers, you get to jam like no one's business from Vegas to London while sipping on Some Hennessy, Jägermeister, energy drinks to keep the party going, cans of Coca-Cola and that's all for GH 1,000 for 6 people. You can also step it up to GH 1,500 with additional Hennessy and Fantinel Prosecco. Just call 050-339-4318
If this is your first time at 'Hidden City', come to make history and be a part of the journey and welcome to the good life. For the Old Gees, the legend lives on and nowhere close to ending. For those who don't know, now you know. Come let's jam, after all, you just have "Vivie Sus Fantasias"