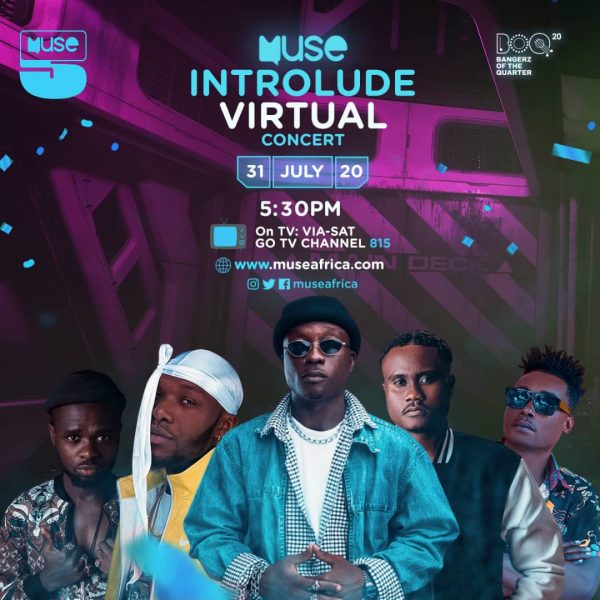 As part of our 5 years Anniversary, Muse Media Networks is proud to announce the maiden Muse Introlude Virtual Concert, scheduled for 31st July 2020 at exactly 5:30 pm GMT.
Fans across the world will enjoy an intimate acoustic session from five of the top rising Ghanaian talents.
Performing live are Kofi Jamar, Teflon Flexx, Jah Lead, Offei and isKwarteng.
The music performance will range from rap music, afro-house, highlife, afro-beats, reggae, dancehall and the alternative sound.
Check Out : King Monada – Malwedhe (Idibala)
Hit records such as Mi Dey Up by Kofi Jamar, Madina by Teflon Flexx, Fi Mano by Offei, Lonely by Jah Lead and isKwarteng's Holy Water will be performed in a way they haven't performed before.
They would be backed by our highly rated keyboardist, who doubles as a beat maker and sound engineer – the Leader of the Safoa Band Genius Selection.
The Muse Introlude Virtual concert will be streamed live on Television on Via-Sat (Go TV channel 815), on Muse Africa's Facebook page, YouTube with updates via Twitter.
Muse Introlude is one of Muse Africa's flagship programs that helps to propel new talents into the front seat of the ever moving music scene.
Watch on Facebook: