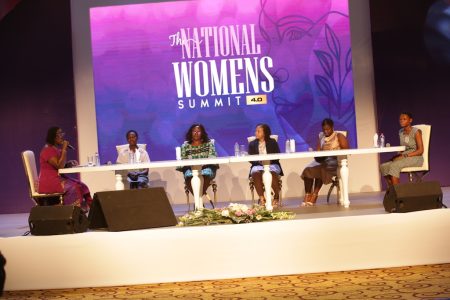 In her speech, Patience Ofori Mpereh, Marketing Director – Wilmar Africa, said "Every woman has a desire to manage and balance everything; family, profession, Raising children and others; and to live her life to the fullest- this I believe most of us here can relate. As we juggle all activities as wives, single women, mothers, or professionals, we ought to remember that our mental, physical and financial framework among many others need to be sound". She ended her speech by unveiling the brand ambassador for Frytol. "She is a woman who resonates with our target audience: a professional woman with years of experience in the media, a radio anchor, one of Ghana's finest actors, a wife & a mother of two and a fitness advocate, who strives to balance it all as a woman.  Therefore, on this journey of Goodness, we are happy to announce for the very first time, the Frytol Brand ambassador Nisirine Ashorkor Doku- popularly known as Naa Ashorkor"
Speaking on the 'You deserve a life of goodness' panel featured distinguished Ghanaian business leaders; Ewuraba Ekua Adusei – Currently the Marketing manager of Wilmar Africa Limited with over 10 years' experience in the FMCG. Akosua Amponsah Baffour Asiedu-Jones – CEO and general manager of Distribution & Co Limited ("DnC"), a full service distributor of FMCGs. Quiana Canfor-Dumas, she holds a Bachelor's degree in Mechanical Engineering and Master of Science degree in Operational Management. Mrs. Helena Adu-Gyamfi – Managing partner of Perfect Personal Care and last but not least, RENEE OPARE-OTOO Renee Opare-Otoo, a registered and licensed dietitian with over five years' experience and consults as a nutritionist for the Ghana Football Association (the first ever appointed) and also offers in-person and virtual nutrition consultations for some clinics.  
Panel discussions were moderated by Edem Knight-Tay, programs manager, Joy Fm and newly unveiled brand ambassador, Naa Ashokor. The event was also coupled with an exceptional performance from songstress Cina Soul.
The 4th National Women's Summit is sponsored by FRYTOL, supported by SHE LEADS by PLAN INTERNATIONAL and produced by CHARTERHOUSE in collaboration with JOY FM. 
 To commensurate the world's annual celebration and honoring women dubbed International Women's Day, leading event's company, Charterhouse in partnership with Frytol has successfully hosted the 4th edition of its annual National Women's Summit. The summit was held on 8th March at the Grand Arena inside the Accra International Conference Center. 
Theresa Ayoade, convener of the summit and CEO of Charterhouse, Theresa Ayoade as part of her opening speech "I believe each year we make more progress towards gender parity. This year's theme is so apt right now because it challenges each of us here to be intentional about breaking biases towards women. Right from the homes and how we socialize our male and female children. What are the things we say to them and how do our culturally and socially accepted gender roles continue to perpertuate these biases against our gender? I have been guilty of gender bias and I was called out by my daughter. Then I realised that I was unconsciously exhibiting biases out of probably my upbringing. How do we sow seeds now so there's a pipeline for the next Women Leaders? This is what the NATIONAL WOMEN'S SUMMIT is about" 
The keynote speaker was in the person of Mrs. Abiola Bawuah. She is the Regional CEO, West Africa, overseeing the group's business in nine countries. She joined UBA Ghana in 2013 as Deputy Managing Director and was elevated to serve as the MD/CEO of UBA Ghana in 2014. She was appointed in 2018 as Regional CEO West Africa One, responsible for 6 countries. She touched on the constant need to give the girl child a chance to do and be more. 
As part of the summit, panel discussions were held on two themes namely; BREAK THE BIAS and YOU DESERVE A LIFE OF GOODNESS and these featured some of the most experienced business leaders in Ghana who were invited to also share their stories and expertise. The panelists for the Break the bias session included, Dr. Mabel Banson, first female Neurosurgeon in Ghana. Theresa Yamson, CEO- Riker (GIHOC) Pharmaceuticals Ltd. Anna Nabere – Manager SHE LEADS project by Plan International and finally students from Accra Girls Senior High school namely, Marie Lyse Quansah and Nafisa Mohammed.