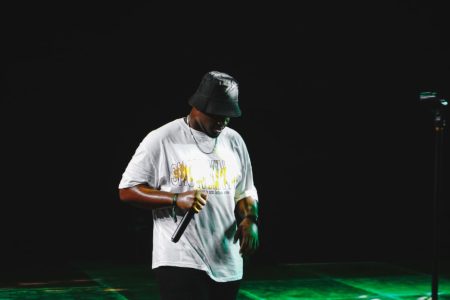 On Sunday, 6th March 2022, BRYAN THE MENSAH and several other artistes had fans screaming the lyrics to their songs at the Jameson Connects Ghana event at Untamed Empire while they had a good time.
The show started in the early part of the day with several activities including skateboarding, graffiti displays and games. By nightfall, the concert was in full gear and if anyone doubted BRYAN THE MENSAH had fans, his entrance proved them wrong.  
Bryan started his performance with his hard-hitting 2020 song, catching everyone's attention as he rapped out the words "Wo nny3 serious. Man no be God and that's on period". He performed his popular drill song, "Problem No Dey Finish", "Giraffe" off his Road To Hastafari album, his famed love song, "Until I See You." 
Jameson Connects was in celebration of Ghana's 65th independence Day.
Watch highlights from BRYAN THE MENSAH's performance here:
View this post on Instagram
Listen to Road To Hastafari here: RTH
Follow the artiste, @BRYANTHEMENSAH on all platforms