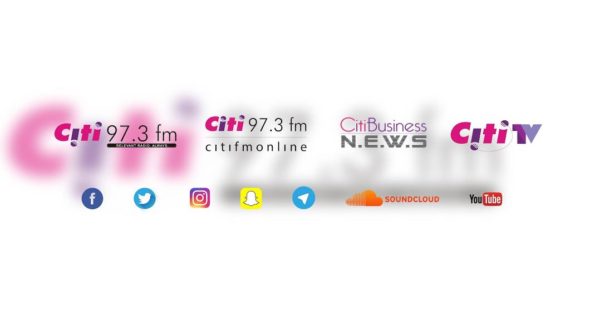 The Geopoll Media Measurement Service has for the second time in a row, placed Citi FM as the number one English radio station in Ghana. This was after collecting and analyzing data of the top radio and TV stations in the country for the third quarter of 2016.
Check Out : Wisa – Mentse Bo (Prod by Chapter Beatz)
In the second quarter of 2016, Citi FM was named the number one English radio station and is still ahead with 4.7% of the radio market share. Adom FM and Peace FM continue to lead in ratings at the national level.
Citi FM has put together, some innovative radio programming over the years, which has resonated quite well with the general radio audience. The Citi Breakfast Show is now widely acclaimed as the best show in the morning between 6:20 am to 10 am on weekdays, thoroughly dissecting and setting the agenda on all issues of national importance.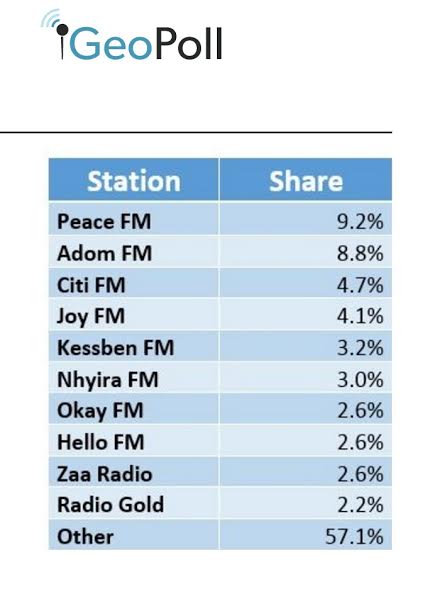 "Citi FM is consistently third, followed by Joy FM which averages fourth," according to Geopoll.
Eyewitness News, another flagship programme of Citi FM also commands the attention of the nation between 5:30pm to 7pm, interrogating and investigating the biggest political stories of the day. Intermittently, there is a fine blend of news brands like the Citi Prime News at midday and the now talk-of-town Brunch in the Citi, the mid-morning show hosted by silky voice Osei Kwame.
Peace FM moved into the top spot, averaging 9.2% of all listeners, followed closely by Adom FM with 8.8%. Citi FM captured 4.7% average share, and Joy FM achieved 4.1%.
GeoPoll, one of the largest providers of overnight audience measurement data in Africa, has partnered the Ghana Independent Broadcasters Association (GIBA), to allow GIBA members to access GeoPoll and Kantar Media's industry data.
Analyzing the TV market, Geopoll said its daily data collected shows that UTV, Adom TV, and TV3 continue to compete for ratings from 7 to 8pm.
"UTV continues to own the highest ratings from 8 to 9pm. From 9-10pm, UTV maintains the top spot, averaging a 4.67 rating." The highest average rating during primetime is on UTV between 8:30-9pm with a rating of 5.73. Adom TV has improved in its primetime ratings compared to Q2, now averaging in the second position ahead of TV3, but still behind UTV. TV3 still captures the highest rating from 7 to 7:30pm.