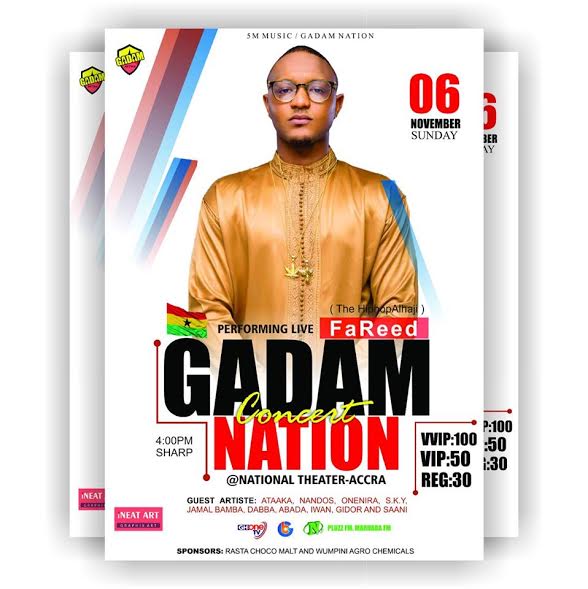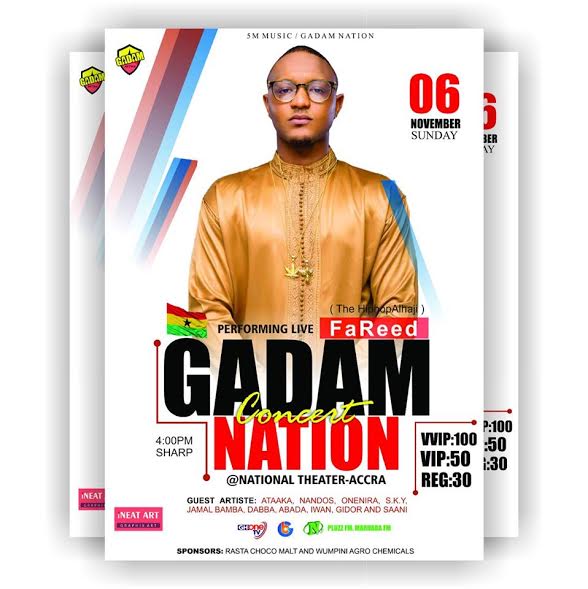 Young skyrocketing Hip-hop artiste, Fareed, is geared up for the highly anticipated "Gadam Nation Concert" scheduled for Sunday, November 6 at the National Theatre, Accra.
Check Out : Manifest – No Where Cool (Album)
The concert which will be headlined by one of Tamale's biggest stars, Fancy Gadam has been tipped to be a successful one.
Fareed, who is known for his debut hit song titled "Hip-hop Alhaji"has promised to pull a surprise on the night. He is expected to rock the stage alongside Iwan, Ataaka, Nandos, Onenira, Saani, Jamal Bamba, S.K.Y, and the headline artiste, Fancy Gadam.
Explaining his preparations for the concert, Fareed said in an interview that he has been 'practicing and rehearsing ahead of the big show'.
"I believe every stage opportunity is very significant. I've been practising and rehearsing for this big show. Everyone should be there to witness an amazing performance," he said.
On what fans should expect from him, the rapper said they should expect a 'super amazing' performance and the premiere of his latest single.
"Patrons should expect a super amazing performance. Come witness greatness, because I'll be unveiling the new street anthem song titled 'Zaafi'."
Fareed explained the title of his yet-to-be-released song and what motivated him to write saying "'Zaafi' is a Hausa word which means HOT. I believe music should represent the state of a society or the general public at every point in time."
He added that "'Zaafi' is going to motivate the youth of our generation. And also, 'Zaafi' is going make your favourite rapper scared. 'Zaafi' is a Hip-hop. 'Zaafi' is for the culture. 'Zaafi' is for the streets."
According to Fareed, the song was produced by Senyo Cue.
"It's going to be an amazing night and also an opportunity for fans to watch me perform for the first time, the new street anthem 'Zaafi',"Fareed concluded.
The Bamba Records artiste has also been billed to perform at "Operation Suhudoo" concert on Saturday, November 26 at the Tamale Sports Stadium. Fareed will share the same stage with Fancy Gadam, Maccasio, Edem, Tinny and Iwan.