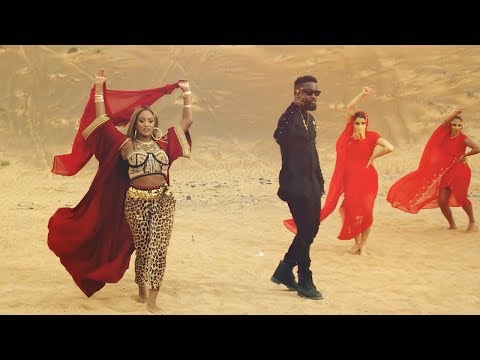 Cuppy teams up with Ghanaian legend, Sarkodie for this Infectious Afro-Pop catchy song.
******* Vybe Lyrics *******
Intro:
To cuppy this tune, press this… uhhh…
Yebo ribo, jawon si boro, kpo kpo na
Hook:
odo mini ka ni be nau
My baby bad shey you dunno
Any where you go me I wan go
Oba hime me e fine asi photo (x2)
Yebo ribo, jawon si boro, kpo kpo na (x1)
Chorus:
Am in love with your vibe, boy you know what i like….
I cant wait to be with you tonight uhhh…
Am in love with your vibe, so come give it to me
Sarkodie:
What else, o bebebe pon bebe
We feeling the vibe odewe you bright i need you by my side so dont be shy baby, Rabedaminchemm bodinnicapi ifami samichewen now whose your me your guy baby,
i can see your feeling me se me peller wujimidae my trouble left antimican reply baby,
I promise on my honour baby girl i wana bring to ghana for summer miniwuminiobegasemi, Minibidimatropiconcorma, onorpanoisicadi you know i gat what you need
Am ready to give it to you muye me costomer,
capimuye how, bomojonabrami chrome
miye dime but you meter quwan one corner,
ye wan can i be keep rocking your body for show i no go promise anything me i just wana,
let you know girl cuppy that.
Chorus:
Am in love with your vibe, boy you know what i like….
I cant wait to be with you tonight uhhh…
Am in love with your vibe, so come give it to me
Hook:
odo mini ka ni be nau
My baby bad shey you dunno
Any where you go me I wan go
Oba hime me e fine asi photo (x2)
Yebo ribo, jawon si boro, kpo kpo na, yeba (x1)
Cuppy:
I gat the wave i gat the juice……boy come sip on it yeahh….
I know you like it, i know you want it for real.
Ti ma pe e, sho ma wale ooooo..
Sho ma bami dele oooo…
Boy cuppy that
Chorus:
Am in love with your vibe, boy you know what i like….
I cant wait to be with you tonight uhhh…
Am in love with your vibe, so come give it to me
Hook:
odo mini ka ni be nau
My baby bad shey you dunno
Any where you go me I wan go
Oba hime me e fine asi photo (x2)
Yebo ribo, jawon si boro, kpo kpo na, yeba (x1)