Ghanaian sensation Darkua once again proved she is destined for stardom, leaving the entire audience awestruck with her mesmerizing performance at the recent Ess Live 3 Concert.
The Ghanaian music scene has been reenergized, with creatives taking charge of the night scene. On the unforgettable night of Saturday, June 17th, Ghanaian singer Essilfie hosted the highly anticipated third edition of her show, aptly named "Ess Live." The event attracted a diverse crowd of both creatives and fans, with special recognition given to Amaarae for gracing the show and remaining throughout the event.
Taking the stage with her newly released single, "ECHO," Darkua captivated the audience, delivering an exceptional performance that will be etched in their memories. Dressed in a stunning self-styled gown adorned with sequins and a zebra pattern, Darkua commanded the spotlight as she flawlessly performed three of her songs: "Amalelor," "You," and "Echo." Her vocals soared with an impeccable harmony, leaving the crowd in awe, while her unique fashion choice added a touch of artistic flair.
Reflecting on the event's highlights, Darkua expressed her pride in Essilfie for pulling off such a memorable evening. "Ess Live 3 was truly unforgettable, and I couldn't be prouder of Essilfie's accomplishment," Darkua shared. "Performing live has always held a special place in my heart, and Saturday night showcased exactly why. The energy and connection with the crowd elevated the experience to a whole new level. One of the standout moments was seeing Amaarae singing along to 'Amalelor.' After my performance, I had the opportunity to interact with her, and she expressed her love for my showstopping performance."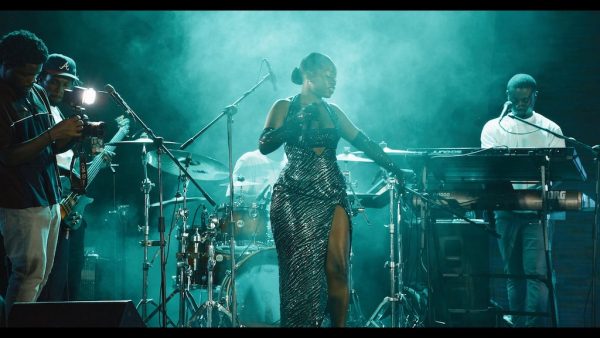 In June, Darkua released her lush and empowering Afro-Soul single, "ECHO." Within just a little over two weeks since its release, Darkua has achieved astronomical success. Apple Music recognized her as the latest UP NEXT Artist in Ghana, while Spotify featured her as the cover artist for the Sizzlers playlist. Additionally, she graced the covers of Boomplay's Girl Vibes playlist and Audiomack's OnTheRadar: AfroSoul playlist.