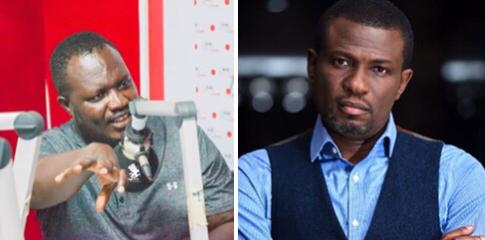 The long standing feud between The 2 Music Producers took a different twist when CEO for Speech Production Mr Enock Agyepong took to his Facebook page to Endorse Mr Mark Okraku's quest for the Deputy Minister Position at the Tourism Arts and Culture Ministry.
He wrote "Time to Build".
It will be better to have an Industry Stakeholder pluck our Oranges for us and leave the tree standing than to have a complete stranger pluck it all and cut the tree down in addition.
Check Out : King Jerry – Sheegey (Prod. By Kasapa Beat)
Enock Agyapong (left) and Mark Okraku Mantey
I guess we have been given the opportunity to help build our industry and all we need to do is to make good use of this opportunity.
Destiny is Destiny.
Yes we're all humans and we have our faults as individuals but it gets to a stage in life when we all have to put the common goal first and as far as the #VhimCrew is concerned we're going to put all our differences aside and rally support behind our Own industry Player.
There is time for everything in fact there is time for argument & confusion and time for Peace, there is time to cut the grass and burn the weed and now it's time to dig the foundation and start the Building.
Thank You Mr President Nana Addo Dankwa Akufo-Addo for the Deputy Minister opportunity offered Us, we'll make good use of it and forever be grateful to you.
Fellow Industry Players it is Time to Build.
Congratulations to Mark Okraku Mantey in Advance.
#VhimMoveMent"
We believe this looks good for the Industry as a whole.
Post navigation