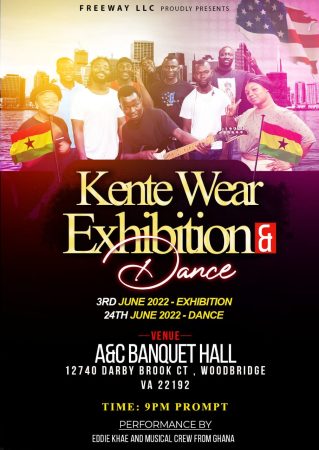 The best of Ghanaian culture is set to be on display at the "Kente Wear Exhibition and Dance". The two-day event which is set to take place on the 3rd and 24th of June has activities packed to bring the best of the excitement, education and fun.
Kente is a Ghanaian textile which is made of handwoven cloth, strips of silk and cotton. Through history it was known to have been worn by the Ashantis and Ewe who are ethnic groups in Ghana, a West African country. In our modern day, it has become a piece / part of cloth which is added to our fashion wear to add extra color. Due to its popularity, we now see them globally as they are used as academic stoles in graduation ceremonies.
Freeway LLC is the organizer of the two-day event and the schedule is to have the main exhibition take place on the 3rd of June and Dance event on the 24th of June respectively. As part of the exhibition will be on display educational material on the history of Kente, the production process, the symbolic meanings and many others.
The Dance event will see performances from Eddie Khae and his musical band from Ghana. Eddie Khae is an A-List artiste in the Ghanaian music industry hit songs such as Do The Dance, Speak In Tougues, Waow. Eddie Khae has graced various platforms such as VGMA celebration jam,RTP Awards, Decemba 2 Rememba, Central Music Awards and many others with extertaining perfornaces with his band. You don't want to miss this event which will take place at A&C Banquet Hall. 12740 Darby Brook Ct, Woodbridge, VA 22192 at 9pm on both dates.
Mark them down in your calendars.