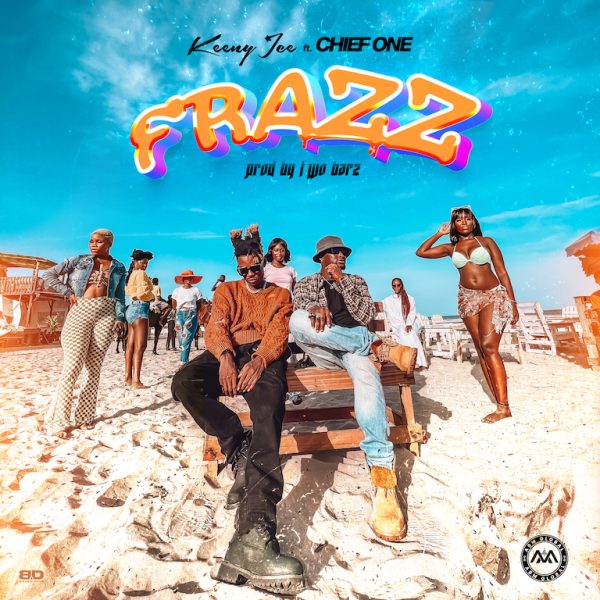 Ghanaian musician Keeny Ice is thrilled to announce the highly anticipated release of his latest single, "Frazz." The energetic Amapiano track features the remarkable talents of Chief One, a nominee for the coveted "New Artiste of the Year" award at the 2023 Ghana Music Awards. Produced by Two Bars, "Frazz" marks Keeny Ice's first feature of the year, adding to his impressive catalogue of hits. The single is released under the management of ABM GLOBAL and is accompanied by a vibrant music video directed by the talented Dela Finn.
Frazz Artwork.jpg
With "Frazz," Keeny Ice ventures into the Amapiano genre, infusing his unique style and lyrical prowess into this infectious party anthem. The track showcases Keeny Ice's versatility as an artiste and his ability to adapt to different musical styles while maintaining his signature sound. Chief One's guest appearance adds an extra layer of energy and dynamism, making "Frazz" a must-listen for music lovers worldwide.
The accompanying music video for "Frazz" is a visual feast, featuring stunning cinematography, captivating choreography, and a vibrant display of colors. Directed by Dela Finn, the video perfectly complements the energetic and celebratory atmosphere of the song, bringing it to life with its engaging visuals.
In support of the release, Keeny Ice has embarked on a media tour to connect with fans and spread the infectious energy of "Frazz." Through interviews, performances, and appearances across various media platforms, Keeny Ice aims to create widespread excitement and anticipation for the single, solidifying his position as one of Ghana's most talented and versatile musicians.
"I am thrilled to share 'Frazz' with the world," expressed Keeny Ice. "It's a song that embodies the spirit of celebration and brings people together on the dance floor. I had an amazing time collaborating with Chief One, and I can't wait for everyone to experience the energy and joy of this track."
"Frazz" is now available for streaming and download on all major music platforms, including [list of platforms]. The official music video can be enjoyed on
. Fans and music enthusiasts are encouraged to share the song on their social media platforms and spread the infectious vibe of "Frazz" with their friends and followers.

Streaming platform – https://distrokid.com/hyperfollow/keenyice2/frazz-feat-chief-one
For media inquiries, interview requests, or further information, please contact:
abmglobalhq@gmail.com
About Keeny Ice
Keeny Ice is a Ghanaian musician known for his versatile style and captivating performances. With a growing discography of hits and a dedicated fan base, Keeny Ice continues to push boundaries and create music that resonates with audiences. His unique blend of various genres, coupled with his distinct lyrical prowess, has solidified his position as one of Ghana's most promising talents.
Follow Keeny Ice on social media:
Instagram: @KeenyIce
Twitter: @KeenyIce
Facebook: Keeny Ice